Iowa Cowmaker Elite -- Information

note: pdf files open in new window/tab | click on headings for more information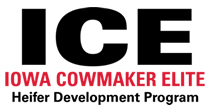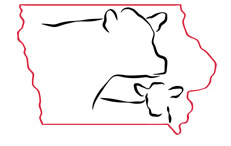 The Iowa Cowmaker Elite (ICE) Heifer Development Program is designed to help Iowa's beef producers select, manage, develop, and market better bred heifers year after year. Information generated from ICE heifers will be compiled, analyzed, and utilized for constant improvement in Iowa's cow herd. These females will be selected for longevity to thrive in Iowa's various environments. In turn, these females will generate more desirable feeder cattle backed with reliable herd health, performance, and carcass information.
The ICE program flyer explains minimum program standards and protocols for all enrolled animals.
Download the ICE brochure for fees, additional optional services and a registration form.
Note: Online registration is available. You will receive a copy of your responses by email which you can save and print.
After you've registered, you'll need to enroll your heifers in the program.
Download the ICE data entry sheet (xls) and save to your computer. You can then enter your data and email the completed sheet to Patrick Wall.
Watch this informational video for step-by-step instructions on how to get started.

ICE informational video (9:24)


Learn more about the ICE heifer development program including heifer enrollment, program standards and use of the data entry form from coordinator ISU Extension and Outreach beef specialist Patrick Wall.
Click to see the list of cooperators
Larry & Kelsey Bailey (Creston, IA)
-- 641-344-0364 (Larry)
Genetic Solutions, Inc. (Leon, IA)
-- 641-344-6002 (Daryn Yoder)
Hunter Brothers (Chariton, IA)
-- 641-203-1999 (Nick)
-- 641-203-1529 (Mike)
Long View Genetics, LLC (Carroll, IA)
-- 402-658-4877 (Kevin Sothman)
SP Genetics, LLC ( Prole, IA)
-- 515-371-5065 (Isaiah Shnurman)
Veterinary Medical Center (Williamsburg, IA)
-- 319-668-1111 (Brian Huedepohl, DVM)
Werner Feed Efficiency (Diagonal, IA)
-- 641-344-4926 (Joe)
Iowa Cowmaker Elite is offered through a cooperative effort of Iowa Beef Center and the Iowa Veterinary Medical Association.