Breeding Management is Focus of 2020 Three-State Beef Conference

note: pdf files open in new window/tab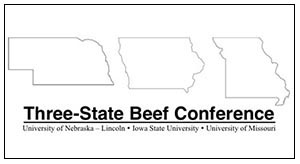 12/9/19
GREENFIELD Iowa – The annual Three-State Beef Conference is scheduled for Jan. 14, 15 and 16, 2020 with locations in Iowa, Missouri and Nebraska. The Iowa session will take place Tuesday, Jan. 14 at the Warren Cultural Center, 154 Public Square, Greenfield. Missouri and Nebraska sessions follow on Jan. 15 and Jan. 16 respectively. Iowa State University Extension beef specialist Erika Lundy said the program offers area beef producers the opportunity to visit with a forum of specialists focusing on improving profitability through breeding management decisions.
"While it may seem pretty far down the road, it is not too early to start planning for next breeding season," she said. "Advanced preparation can help you set your cows up for reproductive success."
Iowa State extension beef specialist Chris Clark said conference topics and speakers were specifically selected to focus on areas of importance to producers.
"Every year the planning committee strives to select valuable topics and quality speakers to make the program helpful for producers," Clark said. "This year the focus will be on breeding management including the importance of nutrition relative to reproductive success as well as the value and effects of various available technologies."
Presentations, speakers and their affiliations are:
Pre-calving Nutritional Strategies: Am I Staying Ahead or Getting Behind? – Dr. Travis Mulliniks, Range Cow Nutritionist, University of Nebraska—Lincoln
Vaccines and Implants: Effects on Production and Reproduction – Dr. Craig Payne, Extension Veterinarian, University of Missouri Extension
Reproductive Performance: Are You Leaving Money on the Table? – Dr. Jordan Thomas, Beef Reproduction Specialist, University of Missouri Extension 
Registration will open at 5:30 p.m., with the program beginning at 6 p.m. The registration fee is $25 per person and includes the evening meal and copy of the proceedings. Preregistrations are appreciated by Friday, Jan. 10 to help with meal planning and reducing costs. The conference brochure has agenda information and a registration form.  RSVP by either calling the Adair County Extension office at 641-743-8412 or email krohrig@iastate.edu. The Adair County Cattlemen are a local sponsor for this event.
For more information on the conference contact Clark at caclark@iastate.edu or Lundy at ellundy@iastate.edu.
-30-
The Iowa Beef Center at Iowa State University was established in 1996 with the goal of supporting the growth and vitality of the state's beef cattle industry. It comprises faculty and staff from Iowa State University Extension and Outreach, College of Agriculture and Life Sciences and College of Veterinary Medicine, and works to develop and deliver the latest research-based information regarding the beef cattle industry. For more information about IBC, visit www.iowabeefcenter.org.
Contacts:
Chris Clark, Iowa State University Extension beef specialist, 712-250-0070, caclark@iastate.edu
Erika Lundy, Iowa State University Extension beef specialist, 641-745-5902, ellundy@iastate.edu