Three-State Beef Conference Goes Virtual in 2021

note: pdf files open in new window/tab
12/16/2020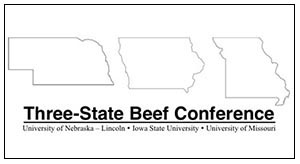 CHARITON, Iowa -- For 35 years, the Three-State Beef Conference has provided beef cattle producers in Iowa, Missouri and Nebraska an annual update on current and critical cow-calf and stocker topics. Iowa State University extension beef specialist Chris Clark said that although the 2021 event will be done virtually due to the COVID-19 pandemic, the program will continue to provide quality speakers and valuable information.
"For the safety of everyone involved and to ensure compliance with all public health guidance, we decided it was best to offer a virtual program this year," he said.
The 2021 program, titled "Making Dollars out of Decisions" is set for January 12-14, with an hour-long webinar beginning at 7 p.m. each day.
Here are the conference dates and session titles, speakers and their affiliations.
Tuesday, January 12
"What's on the horizon for the cattle industry: pricing changes, profit drivers and other possibilities in 2021" -- Dr. Scott Brown, University of Missouri
Wednesday, January 13
"Making Selection Successful: Aligning trait emphasis with market endpoints" -- Dr. Bob Weaber, Kansas State University
Thursday, January 14
"Value of Connected Data" -- Justin Sexten, Performance Livestock Analytics
All sessions are free, however, registration is required. People will register once for all three days, and following that step will receive an email with the webinar link and sign-in details. Register here https://unl.zoom.us/webinar/register/WN_7OcoslzVSnqK9z9Rn5c1mg
For more information on the conference or registration, contact Clark at caclark@iastate.edu or Iowa State University Extension beef specialist Erika Lundy at ellundy@iastate.edu.
-30-
The Iowa Beef Center at Iowa State University was established in 1996 with the goal of supporting the growth and vitality of the state's beef cattle industry. It comprises faculty and staff from Iowa State University Extension and Outreach, College of Agriculture and Life Sciences and College of Veterinary Medicine, and works to develop and deliver the latest research-based information regarding the beef cattle industry. For more information about IBC, visit www.iowabeefcenter.org.
Contacts:
Chris Clark, Iowa State University Extension beef specialist, 712-250-0070, caclark@iastate.edu