Beef Quality Assurance Training Set for August 13 in Ames

note: pdf files open in new window/tab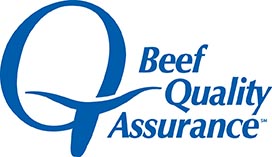 7/28/20
AMES, Iowa – A Beef Quality Assurance training session will be held Thursday, August 13, at the Hansen Agriculture Student Learning Center, 2508 Mortensen Rd, in Ames. The in-person session will run from 1:30 to 3:30 p.m. CDT and is sponsored and provided by Iowa Beef Center at Iowa State University, the Iowa Beef Industry Council and the Minnesota Beef Council.
ISU extension beef specialist Erika Lundy and Minnesota BQA coordinator Allison VanDerWal will lead the session, and Lundy said participant health and safety is priority, and current federal, state, local and university COVID-19 guidelines will be followed.
"Participants are strongly encouraged to wear a cloth face covering when in the presence of others and unable to maintain a 6-foot physical distance," she said. "There is no cost to attend this session; however, registration is required to help us plan for necessary space and other requirements."
To register, contact Iowa Beef Center before Aug. 11 by email beefcenter@iastate.edu or phone 515-294-BEEF (2333). In both methods, please provide the name, address, phone number and email address of each person who will attend.
The program flyer has all the details at a glance.
To learn more about the Iowa BQA Program and other upcoming certification trainings, please visit www.iabeef.org. Online BQA and BQAT certification also is available at no charge at www.bqa.org.
-30-

The Iowa Beef Center at Iowa State University was established in 1996 with the goal of supporting the growth and vitality of the state's beef cattle industry. It comprises faculty and staff from Iowa State University Extension and Outreach, College of Agriculture and Life Sciences and College of Veterinary Medicine, and works to develop and deliver the latest research-based information regarding the beef cattle industry. For more information about IBC, visit www.iowabeefcenter.org.
Contact:
Erika Lundy, ISU Extension and Outreach beef specialist, 641-745-5902, ellundy@iastate.edu

Writer:
Sherry Hoyer, Iowa Beef Center, 515-294-4496, shoyer@iastate.edu