"Wrap-up" Training for Beef Quality Assurance Transportation to be held in Cherokee

note: pdf files open in new window/tab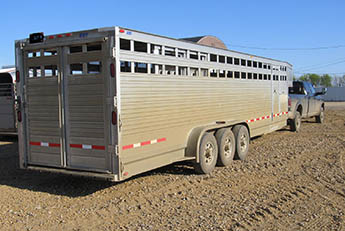 12/31/19
CHEROKEE, Iowa – Beef producers and commercial transporters still have an opportunity to get their BQA Transportation certification for 2020.
The Iowa Beef Center and Iowa State University Extension and Outreach – Cherokee County are hosting a "wrap-up" BQA transportation training on Jan. 24 at the Cherokee County Extension Office in Cherokee. The training will be 10 a.m. to noon.
According to Beth Doran, ISU Extension and Outreach beef specialist, this is a great time for those without the certification to attend.
"BQAT certification will be a part of doing business," she said. "Any individual directly delivering cattle to major packers will have to provide BQAT certification prior to unloading cattle."
This workshop is one of six conducted in northwest Iowa. The completed workshops already have certified 133 transporters who collectively haul more than 8,250 loads of cattle yearly – proof that the transporters are committed in providing quality transportation to ensure high-quality beef for the consumer.
The certification fee is $25 per person, payable at the door. Preregister by calling the Cherokee County Extension Office at 712-225-6196. 
For more information, see the flyer on the Iowa Beef Center website. Participants also may contact Doran at 712-737-4230 or doranb@iastate.edu
BQAT is available online at no cost anytime; visit https://www.bqa.org/programs.
-30-

The Iowa Beef Center at Iowa State University was established in 1996 with the goal of supporting the growth and vitality of the state's beef cattle industry. It comprises faculty and staff from Iowa State University Extension and Outreach, College of Agriculture and Life Sciences and College of Veterinary Medicine, and works to develop and deliver the latest research-based information regarding the beef cattle industry. For more information about IBC, visit www.iowabeefcenter.org.
Contact:
Beth Doran, ISU Extension and Outreach beef specialist, 712-737-4230, doranb@iastate.edu