Beef Quality Assurance and BQA Transportation Workshops Set for March 26 in Lenox

note: pdf files open in new window/tab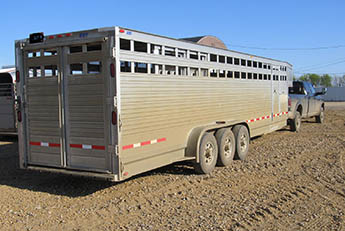 3/10/20
BEDFORD, Iowa – Beef Quality Assurance and Beef Quality Assurance Transportation training sessions are set for Thursday, March 26, at the St. Patrick's Catholic Church at 600 W. Michigan St. in Lenox. 
The regular BQA session will be held from 10:30 a.m. to noon, with the BQAT session held from 12:30 to 2 p.m. Based on individual needs, producers and haulers can attend one or both sessions. Thanks to sponsorship from Taylor County Cattlemen, a free lunch will be provided at noon and the BQAT session in the afternoon also is free.
Both sessions will feature best management practices and new emerging trends to help maintain consumer confidence, improve cattle performance, and meat quality on the farm. See a flyer for both programs.
To preregister for the event by March 24, please call the Taylor County Extension Office at 712-523-2137.  For questions regarding the BQA program, please contact Erika Lundy, ISU extension beef specialist in southwest Iowa, at 641-743-8412 or email ellundy@iastate.edu.
To learn more about the Iowa BQA Program and other upcoming certification trainings, please visit www.iabeef.org.  Online BQA and BQAT certification also is available at no charge at www.bqa.org. 
-30-

The Iowa Beef Center at Iowa State University was established in 1996 with the goal of supporting the growth and vitality of the state's beef cattle industry. It comprises faculty and staff from Iowa State University Extension and Outreach, College of Agriculture and Life Sciences and College of Veterinary Medicine, and works to develop and deliver the latest research-based information regarding the beef cattle industry. For more information about IBC, visit www.iowabeefcenter.org.
Contact:
Erika Lundy, ISU Extension and Outreach beef specialist, 641-745-5902, ellundy@iastate.edu