Beef Quality Assurance Transportation Session Set at ISU Armstrong Farm

note: pdf files open in new window/tab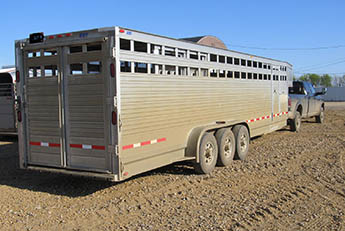 11/18/19
LEWIS, Iowa – Beef Quality Assurance Transportation (BQAT) certification will be required for commercial beef haulers and producers who deliver fed-cattle directly to most major packing plants beginning January 1, 2020. This program plays a critical role in the health and welfare of cattle, according to Iowa State University extension beef specialist Erika Lundy.
"This BQAT program is focused on sharing best management practices for cattle handling guidelines, weather considerations and driver safety, " she said. "It also includes information on developing biosecurity and emergency action plans."
One such BQAT certification workshop will be held Dec. 16 at the Iowa State Armstrong Research Farm/Wallace Learning Center located at 53020 Hitchcock Ave, Lewis. The event, set for 6:30-8:30 p.m., is free thanks to sponsorship of Iowa Premium, a National Beef Company. For more information, see the program flyer.
For questions or to RSVP, please contact Lundy by email at ellundy@iastate.edu or call the Adair County Extension Office at 641-743-8412. RSVP's are strongly encouraged; walk-ins are welcome.
Those who are unable to attend this workshop may wish to take the certification online at www.bqa.org. You also can check the Iowa BQA website for additional trainings in your area.
-30-

The Iowa Beef Center at Iowa State University was established in 1996 with the goal of supporting the growth and vitality of the state's beef cattle industry. It comprises faculty and staff from Iowa State University Extension and Outreach, College of Agriculture and Life Sciences and College of Veterinary Medicine, and works to develop and deliver the latest research-based information regarding the beef cattle industry. For more information about IBC, visit www.iowabeefcenter.org.
Contact:
Erika Lundy, ISU Extension and Outreach beef specialist, 641-745-5902, ellundy@iastate.edu