Registration Deadline Approaches for 2018 Beef Feedlot Short Course

note: pdf files open in new window/tab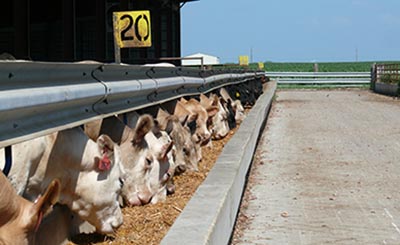 7/10/18
AMES, Iowa – The deadline to register for the Iowa Beef Center's 2018 Beef Feedlot Short Course is drawing close, so if you're thinking about attending this year's event you'll want to act soon. There's a limited number of available spots and IBC program specialist Erika Lundy said participants in the July 31-Aug. 1 event will experience classroom and hands-on instruction in a variety of topics, along with sessions at the Iowa State Beef Nutrition Farm and Couser Cattle Company in Nevada.
"Just as for our first short course last year, we're bringing in outside experts to help provide in-depth information on feed, data management, bunk management and health issues," Lundy said.
The program will be held at the Hansen Agriculture Student Learning Center in Ames, and runs from 1 p.m. on Tuesday, July 31, through noon on Aug. 2. The $350 per person registration fee covers transportation to and from classroom facilities and local feedlots, handouts and meals. Participants also will become Beef Quality Assurance certified during this short course.
The registration deadline is midnight, July 24 or if the course limit of 30 is reached. Any cancellation requesting a refund must also be received by midnight, July 24. See the short course website for registration information and links at http://www.aep.iastate.edu/feedlot.
Participants are responsible for making their own lodging arrangements, if needed. A  block of rooms is available at the Sleep Inn & Suites, 1310 Dickinson Ave, Ames for those wishing to stay in Ames. Call 515-337-1171 for reservations.
Visit www.aep.iastate.edu/feedlot for online registration and additional course details. For questions on the short course content contact Lundy at ellundy@iastate.edu. For assistance with registration, receipts, cancellation or questions on the status of your registration contact ANR Program Services at 515-294-6429 or anr@iastate.edu.
-30-
The Iowa Beef Center at Iowa State University was established in 1996 with the goal of supporting the growth and vitality of the state's beef cattle industry. It comprises faculty and staff from Iowa State University Extension and Outreach, College of Agriculture and Life Sciences and College of Veterinary Medicine, and works to develop and deliver the latest research-based information regarding the beef cattle industry. For more information about IBC, visit www.iowabeefcenter.org.
Contact:
Erika Lundy, Iowa Beef Center program specialist, 515-294-9881, ellundy@iastate.edu