Producers Reminded to Register for Dec. 4 Beef Nutrition Research Showcase

note: pdf files open in new window/tab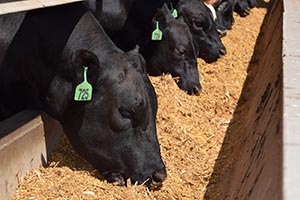 11/13/19
AMES, Iowa – Want to learn what's happening in the area of beef nutrition research at Iowa State University? Be sure to register by Nov. 27 for the "Beef Nutrition Showcase" set for Dec. 4. The program will include a variety of completed and ongoing research conducted by the animal science ruminant nutrition group and Iowa Beef Center.
Allison VanDerWal, research coordinator for the ruminant nutrition group at Iowa State, said organizers hope hosting the event the day before the Iowa Cattlemen's Association 2019 Iowa Cattle Leadership Summit will help draw individuals interested in learning about research conducted at Iowa State University to the event.
"The ruminant nutrition group is excited to share our most recent findings in the areas of growth promoting technologies and their effect on mineral nutrition, transit stress in receiving calves and precision livestock tools available for livestock farming with producers across the state," she said.
Attendees also will get an update on the beef cattle market situation and outlook, and will learn about finishing high quality beef in the feedlot.
The program will be held in the warmth at the Hansen Ag Student Learning Center, 2508 Mortensen Road in Ames, beginning at 1:30 p.m. and concluding with a meal at 5:30 p.m. Registration for the event will be from 1 to 1:30 p.m.
"An optional research farm tour will be held sun or snow at noon that day at the Beef Nutrition Farm, located at 3405 North Dakota Ave.," VanDerWal said. "Individuals will be able to view and learn about ongoing research at the farm."
A printable event flyer including topics, speakers, sponsor and preregistration is available on the IBC website.
There is no registration fee thanks to sponsor Merck Animal Health. However, it is important to preregister for the event by the Nov. 27 deadline to ensure adequate meal counts for attendees. To preregister, either email the name and address of each attendee to avand@iastate.edu or call 507-822-5921 with that same information.
-30-
The Iowa Beef Center at Iowa State University was established in 1996 with the goal of supporting the growth and vitality of the state's beef cattle industry. It comprises faculty and staff from Iowa State University Extension and Outreach, College of Agriculture and Life Sciences and College of Veterinary Medicine, and works to develop and deliver the latest research-based information regarding the beef cattle industry. For more information about IBC, visit www.iowabeefcenter.org.
Contact:
Allison VanDerWal, research coordinator, animal science, 507-822-5921, avand@iastate.edu