New Beef Program Specialist Ready to be Resource for Iowa Producers

note: pdf files open in new window/tab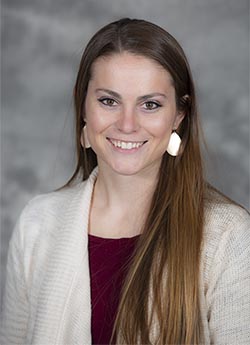 3/22/19
AMES, Iowa – To put it simply, Beth Reynolds sees herself as a resource for producers. As the new extension program specialist with the Iowa Beef Center, she said her goal is to provide relevant materials and keep resources readily available.
"The diversity and unique qualities of cattle operations throughout Iowa was a big draw for me to pursue a career here," she said. "I know that not everything available from IBC applies to every operation, and I want to stay on top of topics producers care about and need information on."
For example, Reynolds said her primary interest is in the cow-calf sector and forage utilization. However, as a Colorado native who grew up on a diversified family farming operation that uses cover crops and corn residue for their commercial cow and registered Charolais herd, she knows she'll need to shift her focus somewhat.
"We typically graze native range during the growing season, turn out onto cornstalks immediately after harvest, calve on stalks, move pairs onto rye after green up in the spring, and then move the cows back to native range during planting season," she said. "I've always enjoyed range management techniques, but in Iowa, I need to shift to pasture management. I anticipate a large part of my work here will be to focus on pasture and annual forages as this is a big topic in Iowa, and there is a need at the beef center for someone to focus on forages."
Reynolds earned a B.S. in animal science with production focus from University of Wyoming in Laramie, and received her M.S. in animal science with focus on ruminant nutrition from University of Nebraska—Lincoln. Her thesis work centered on evaluating the risk of nitrate toxicity when grazing annual forages and determining how that risk might differ from feeding hayed annual forages. She also was involved with a research project that evaluated how the nutritive quality of oats, turnips and radishes changes when those crops are grazed from late October to January in south central Nebraska.
She said it's important for producers to understand how to communicate with consumers about management decisions while keeping science at the forefront of the conversations.
"It's challenging to discuss practices that aren't well understood by consumers, yet still maintain consumer confidence in those discussions regardless of emotion," she said. "For example, yes, ruminants produce methane. As producers we shouldn't deny that, but they also convert otherwise non-useful products into a high quality protein and – when managed appropriately – can increase land productivity and health."
Reynolds said producers should look forward to seeing her at meetings, field days and research projects. She looks forward to working with her IBC colleagues to share information and opportunities for education with producers and others in the beef industry.
"I am a firm believer in data driven conclusions and recommendations and hope information I provide remains relevant to the Iowa and national beef industry," she said. "Our work is driven by the producers and we need feedback to stay relevant for all operations, however large, small, or unique they are."
-30-
The Iowa Beef Center at Iowa State University was established in 1996 with the goal of supporting the growth and vitality of the state's beef cattle industry. It comprises faculty and staff from Iowa State University Extension and Outreach, College of Agriculture and Life Sciences and College of Veterinary Medicine, and works to develop and deliver the latest research-based information regarding the beef cattle industry. For more information about IBC, visit www.iowabeefcenter.org.
Contact:
Beth Reynolds, extension program specialist, 515-294-9881, bethr@iastate.edu