Newly Revised BRaNDS Software Available from Iowa Beef Center

note: pdf files open in new window/tab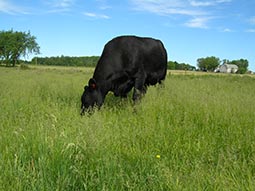 5/9/17
AMES, Iowa – Beef producers who are interested in software that assists with balancing rations will want to check out the Iowa Beef Center's ration balancing software. Associate scientist Garland Dahlke recently completed the update to the Beef Ration and Nutrition Decision Software, and said the new version is easier to use and has the most current information.
"This new version reflects the updated guidelines in the recently released Nutrient Requirements of Beef Cattle so people will have the best information," he said. "There's just a small update fee for those who already have either the professional or standard edition."

Owners of the previous professional edition will pay $50 to update, and standard edition owners will pay $10 per module update. To learn more about the software, see all the available modules and view a sample report output, check out the BRaNDS page on the Iowa Beef Center website http://www.iowabeefcenter.org/brands.html.
The cost of the new professional edition is $525 for new users," he said. "The complete standard edition will be sold to new customers for $260."

Dahlke said users should note that the professional version now requires Microsoft Excel 2007 or later installed on a Windows-based computer to operate. The Standard Edition will operate on both Windows and Mac systems running Excel.
To help users better understand the programs and their capabilities, training sessions are being planned with the first scheduled for Aug. 1 at the Hansen Agricultural Student Learning Center in Ames. He said BRaNDS users should watch for more details on this session and future sessions from IBC.
"Whether you are a new user or are upgrading your old version, remember that program support is just a phone call or email message away," Dahlke said. "You can call the Iowa Beef Center at 515-294-2333 or email us at beefcenter@iastate.edu."
To order, pay for and download your desired version, go to the Iowa State University Extension and Outreach online store here
https://store.extension.iastate.edu/ProductList?Keyword=brands+

Customers who are updating from a previous version should be sure to indicate that in the customer request space on the order shipping page to receive the much lower update price. This will be validated with your name and email. Those who prefer to order a software CD rather than electronically download the program should call the Extension Distribution Store at 515-294-5247.
-30-
The Iowa Beef Center at Iowa State University was established in 1996 with the goal of supporting the growth and vitality of the state's beef cattle industry. It comprises faculty and staff from Iowa State University Extension and Outreach, College of Agriculture and Life Sciences and College of Veterinary Medicine, and works to develop and deliver the latest research-based information regarding the beef cattle industry. For more information about IBC, visit www.iowabeefcenter.org.
Contact:
Garland Dahlke, IBC assistant scientist, 515-294-9910, garland@iastate.edu
Writer:
Sherry Hoyer, Iowa Beef Center, 515-294-4496, shoyer@iastate.edu