Iowa Beef Center to hold Training Session on Revised BRaNDS Software

note: pdf files open in new window/tab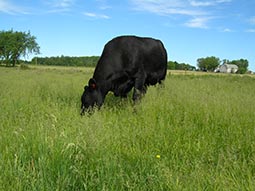 7/7/17
AMES, Iowa – You say you purchased the newest revised version of the Iowa Beef Center's ration balancing software but not sure how it all works? Or maybe you want to obtain the software but just haven't gotten around to buying it yet? IBC has a deal for you: a free training complete with lunch. This session will be held Aug. 1 in Ames at the Hansen Agriculture Student Learning Center at 2516 Mortensen Road.
Whether you're interested in the cow-calf or feedlot versions of the Beef Ration and Nutrition Decisions Software known as BRaNDS, and whether you'll use the standard or professional versions, associate scientist Garland Dalhke said this training is for you.
"We'll have demonstrations of the software and hands-on exercises to help you understand what's new and how to use the 2016 program," he said. "We're using a classroom setting and encourage people to bring their own computers so everything they learn will stay right on the computer to go home with them."
The morning session will cover the program's standard edition and the afternoon focus is on the professional edition. Dalhke is leading both sessions, as well as a demonstration of the BRaNDS appendix. This demonstration is open to participants of both sessions and will be done over the noon hour with lunch provided to all.
Attendees must either already have purchased the new software or will purchase it the day of the training session. See a flyer with all the details.
Although there is no cost to attend, preregistration by July 28 is required for an accurate meal count. Contact Dalhke by phone 515-294-9910 or email at garland@iastate.edu
If this Aug. 1 date does not work for you, please contact Dalhke or your Iowa State University Extension and Outreach regional beef specialist for more information. Additional BRaNDS trainings will be offered regionally on an on-demand basis.
Owners of the previous professional edition will pay $50 to update, and standard edition owners will pay $10 per module update. To learn more about the software, see all the available modules and view a sample report output, check out the BRaNDS page on the Iowa Beef Center website http://www.iowabeefcenter.org/brands.html.
To order, pay for and download your desired version of the BRaNDS software, go to the
Iowa State Extension and Outreach online store
.
Customers who are updating from a previous version should be sure to indicate that in the customer request space on the order shipping page to receive the much lower update price. This will be validated with your name and email. Those who prefer to order a software CD rather than electronically download the program should call the Extension Distribution Store at 515-294-5247.
-30-
The Iowa Beef Center at Iowa State University was established in 1996 with the goal of supporting the growth and vitality of the state's beef cattle industry. It comprises faculty and staff from Iowa State University Extension and Outreach, College of Agriculture and Life Sciences and College of Veterinary Medicine, and works to develop and deliver the latest research-based information regarding the beef cattle industry. For more information about IBC, visit www.iowabeefcenter.org.
Contact:
Garland Dahlke, IBC assistant scientist, 515-294-9910, garland@iastate.edu
Writer:
Sherry Hoyer, Iowa Beef Center, 515-294-4496, shoyer@iastate.edu