Updated BRaNDS Software Available from Iowa Beef Center


note: pdf files open in new window/tab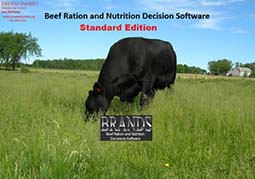 9/16/20
AMES, Iowa – Beef producers interested in software that assists with balancing rations will want to check out the Iowa Beef Center's ration balancing software. Associate scientist Garland Dahlke said the professional and standard versions of four of the Beef Ration and Nutrition Decision Software programs have been updated and are now ready for use.
"The new versions are for Eastern Cornbelt, Iowa, Kansas and Missouri," he said. "Each has individual editions based on type of cattle operation, to provide specific and usable information."
Dahlke said the changes help users get a better understanding of diet components and how they work in the animal.
"Updates to the digestibility of neutral detergent fiber in terms relative to other aspects of the ration such as dietary fat levels and rumen pH are now better addressed," he said. "Also included are the implications of high passage rates and the impact this will have on protein degradation in the rumen."
To learn more about BRaNDS and the modules for each edition, check out the BRaNDS page on the Iowa Beef Center website http://www.iowabeefcenter.org/brands.html. This page also has links to the ISU Extension Store online to purchase all the versions and modules.
For those who have updated from previous versions to the version released in 2017 there is no charge to update to this latest version. Follow the link to your desired version and follow the instructions on that page.
Dahlke reminds potential BRaNDS users that the standard version requires only that Microsoft Excel be installed on the computer where you will run the program. The professional version requires the computer to have and use Microsoft Excel and Windows.

Dahlke is available to assist with questions about the programs themselves by email at garland@iastate.edu and phone 515-294-9910.
-30-
The Iowa Beef Center at Iowa State University was established in 1996 with the goal of supporting the growth and vitality of the state's beef cattle industry. It comprises faculty and staff from Iowa State University Extension and Outreach, College of Agriculture and Life Sciences and College of Veterinary Medicine, and works to develop and deliver the latest research-based information regarding the beef cattle industry. For more information about IBC, visit www.iowabeefcenter.org.
Contact:
Garland Dahlke, IBC associate scientist, 515-294-9910, garland@iastate.edu
Writer:
Sherry Hoyer, Iowa Beef Center, 515-294-4496, shoyer@iastate.edu