Consumer Demand for Protein, Ag Advocacy and Reproductive Technology will Headline 2020 Cornbelt Cow-Calf Conference

note: pdf files open in new window/tab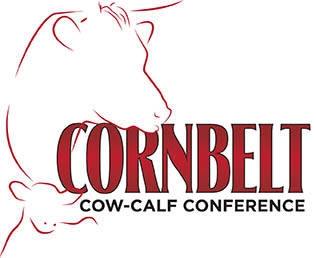 12/5/19
OTTUMWA, Iowa – The premier educational event in Iowa for cow-calf producers is offering a comprehensive package of information to attendees next month. The 49th Annual Cornbelt Cow-Calf Conference has been set for Saturday, Jan. 25 at the Bridge View Center in Ottumwa. Iowa State University Extension and Outreach beef program specialist Patrick Wall said this year's conference will address new, timely, and even controversial topics relevant to Iowa's beef industry.
"It's safe to say that 2019 has been a battle for the ag industry, and the cow-calf sector has certainly faced a number of challenges," Wall said. "This year's Cornbelt Cow-Calf Conference will try to address several issues, from the global consumer view of eating beef down to the health of soil under the cow's feet."
The conference will again offer free admission and will be preceded by the KIIC Farm Show on the Friday afternoon prior to the conference. The 2020 program targets a variety of topics designed to help producers of all ages and production goals. The keynote speakers will be Amanda Radke from BEEF Magazine and Tom Mastrobouni from Tyson Foods.
 
"The morning will open with a talk from Vytelle covering the latest developments in IVF reproductive technology. Amanda Radke will then talk about her open letter to Ellen Degeneres and the role cow-calf producers should play in advocating for their industry," Wall said. "We'll close the morning with a very contentious issue: Tom Mastrobouni was asked by Tyson Foods to explore purchasing plant-based proteins. He'll continue after lunch detailing the current trends in consumer preferences for protein. I think it's really important for producers to understand what their competition is doing, and what the final consumer of their product is telling them they need to do better."
Afternoon break-out session speakers, their affiliations and topics are:
Amanda Radke, BEEF Magazine: Dynamics of Multi-Generational Family Agricultural Businesses
Toby Jordan, producer speaker: A 365-day Approach to Managing Toxic Tall Fescue
Cody Nelson, producer speaker: Soil Rx – Building Soil Health with Cows
Robin Pruisner, IDALS: Understanding the Regulatory Outlook for Hemp Production in Iowa
Aaron Steele, Goats on the Go: Meat Goats for Pasture, Profit, and Personal Growth
Doors will open for this year's conference and trade show at the Bridge View Center in Ottumwa promptly at 8 a.m. The official welcome is at 9 a.m., followed by three general session speakers, lunch and exhibit viewing. The afternoon general session begins at 1 p.m. with Mastrobouni, then break-out sessions beginning at 2:15 p.m. with two repeating time blocks with five choices. A reminder that admission is FREE and includes a copy of the show guide. No preregistration is necessary.
Additional information will be available at www.cornbeltcowcalf.com.
-30-
The Iowa Beef Center at Iowa State University was established in 1996 with the goal of supporting the growth and vitality of the state's beef cattle industry. It comprises faculty and staff from Iowa State University Extension and Outreach, College of Agriculture and Life Sciences and College of Veterinary Medicine, and works to develop and deliver the latest research-based information regarding the beef cattle industry. For more information about IBC, visit www.iowabeefcenter.org.
Contact:
Patrick Wall, ISU Extension and Outreach beef specialist, 515-450-7665, patwall@iastate.edu