Calving Clinic Set for Marshalltown on March 12


note: pdf files open in new window/tab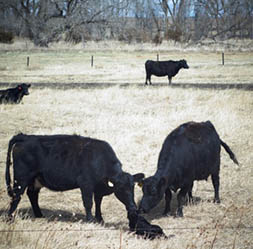 3/2/20
MARSHALLTOWN, Iowa – Cattle producers are invited to attend a calving clinic on March 12 at the Marshall County Extension Office. Iowa State University Extension beef specialist Chris Clark said the educational program will offer valuable information about calving, health, and nutrition.
"We will spend some time talking about the calving process and successfully managing that process.  We will also talk about some basic nutrition and health management as they relate to health and vigor of the newborn calf," he said. "Spring calving season is underway or right around the corner for most producers. This program should provide some timely information that producers can start using right away." 
The clinic will be held Thursday, March 12, from 5:30 to 8:30 p.m. at the Marshall County Extension Office, 2608 S 2nd St., Suite E, Marshalltown. An evening meal, sponsored by Farm Credit Services of America, will begin at 5:30 p.m. and the educational program, sponsored by Marshall County Extension, will begin at 6 p.m. Thanks to support from Farm Credit Services of America and Marshall County Extension, the meal and educational program will be offered free of charge.
Please preregister by March 10 by calling the Marshall County Extension Office at 641-752-1551.
-30-
The Iowa Beef Center at Iowa State University was established in 1996 with the goal of supporting the growth and vitality of the state's beef cattle industry. It comprises faculty and staff from Iowa State University Extension and Outreach, College of Agriculture and Life Sciences and College of Veterinary Medicine, and works to develop and deliver the latest research-based information regarding the beef cattle industry. For more information about IBC, visit www.iowabeefcenter.org.
Contact:
Chris Clark, Iowa State University Extension beef specialist, 712-250-0070, caclark@iastate.edu