Online Calving Management Resource Now Available

note: pdf files open in new window/tab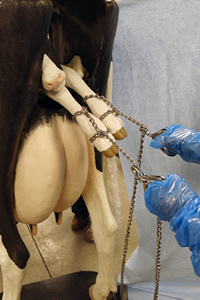 2/28/19
AMES, Iowa — In the beef industry, calving management is critical to production and profitability of the cow herd. Proper care prior to and at calving can help reduce incidence of dystocia, and also minimize deleterious impacts should dystocia occur. Knowing how to prepare, what to do and not do, and when to take action all are critical aspects of correctly managing calving in your herd.
That's why the Iowa Beef Center and Iowa State University Extension and Outreach developed the Calving Management Manual.
ISU extension beef veterinarian Dr. Grant Dewell led the effort with contributions from Iowa State veterinarian Dr. Renée Dewell and Iowa State extension cow-calf specialist Dr. Katy Lippolis. He said the manual is designed to help producers prepare for and successfully navigate the calving season, and is available on the Iowa Beef Center website.
Among the manual topics are pre-calving nutrition, calving supplies and facilities, stages of delivery, dystocia prevention and intervention, and care for the calf. Each section has a separate page, and each page has links to all other sections. This makes it easy to switch between topics as the need arises.
"Of particular interest at this time of year are the sections on 'dystocia prevention and intervention' and 'care for calf,'" Grant Dewell said. "The images in the dystocia section of the calving manual show clearly on a mobile device. A producer can use the images and captions to identify the type of dystocia they are dealing with and attempt to correct it."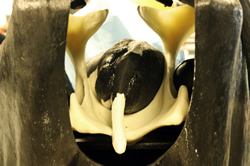 The manual is available online beginning on this page. Eventually all section content will be available as pdf downloads.
-30-
The Iowa Beef Center at Iowa State University was established in 1996 with the goal of supporting the growth and vitality of the state's beef cattle industry. It comprises faculty and staff from Iowa State University Extension and Outreach, College of Agriculture and Life Sciences and College of Veterinary Medicine, and works to develop and deliver the latest research-based information regarding the beef cattle industry. For more information about IBC, visit www.iowabeefcenter.org.
Contact:
Grant Dewell, ISU Extension beef veterinarian 515-294-2822, gdewell@iastate.edu