Health Considerations for Confined Cow-Calf Operations Publication Available from Iowa Beef Center


note: pdf files open in new window/tab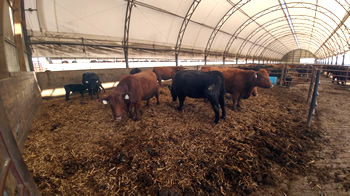 7/28/2020
AMES, Iowa – Health management is critical to the vitality of confined cow-calf operations, and a new publication offers practical information for adapting management and health and biosecurity practices for these operations.
Iowa State University Extension and Outreach beef veterinarian Grant Dewell authored the publication along with Terry Engelken of ISU's veterinary diagnostic and production animal medicine department.
"Increased animal density can allow pathogens to spread faster, compared to pasture-based operations," he said. "Calving is one priority area that requires intensive health management to ensure a successful operation."
The four-page document offers recommendations, reminders and advice in these categories: biosecurity and biocontainment, vaccinations, breeding and calving.
Dewell said the fact sheet will be helpful for existing cow-calf operations as well as pasture-based operations that are considering transitioning to a confinement operation.
The publication IBCR 0205 is available as a free pdf file on the Iowa State Extension Store.
-30-
The Iowa Beef Center at Iowa State University was established in 1996 with the goal of supporting the growth and vitality of the state's beef cattle industry. It comprises faculty and staff from Iowa State University Extension and Outreach, College of Agriculture and Life Sciences and College of Veterinary Medicine, and works to develop and deliver the latest research-based information regarding the beef cattle industry. For more information about IBC, visit www.iowabeefcenter.org.
Contact:
Grant Dewell, ISU Extension beef veterinarian 515-294-2822, gdewell@iastate.edu 
Writer:
Sherry Hoyer, Iowa Beef Center, 515-294-4496, shoyer@iastate.edu