Iowa Beef Center Will Host Six Cover Crop Tours Around Iowa

note: pdf files open in new window/tab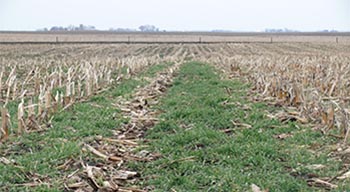 11/9/18
NOTE: the Wyoming tour (Nov. 29) is cancelled. Please consider registering for the Dec. 5 tour in Dyersville.
AMES, Iowa – Iowa Beef Center at Iowa State University will host six tours focusing on fall grazing cover crops across Iowa in late November and early December. These tours are part of a fall grazing cover crops risk management project funded through USDA-NIFA, and will be led by IBC beef specialists. Tour stops will include Iowa State research projects and producers who have successfully grazed cover crops in the fall, who will share their tips for overcoming the challenges of adequate fall growth for grazing.
Bus transportation will be provided for all tours except the Newell tour, where producers will caravan. A registration fee of $5 will be charged to cover meal expenses and can be paid on the tour.
Participants should contact tour coordinators to preregister at least 3 days prior to the tour to aid in meal planning and ensure adequate bus seating. Remember the weather may be cold and participants will be out in fields, so dress accordingly for winter and being outdoors.
These are the tour dates, times and locations in chronological order.
Establishing cover crops following grain production is proven to protect soil, reduce erosion, improve water quality and enhance soil health, while also providing opportunities to extend the grazing season. Fall grazing cover crops has the potential to reduce feed costs, but has more challenges due to weather risk. One month of extended grazing can reduce the cost of production of the cow herd by more than 5%. The window for fall growth and grazing can be more limited than in the spring due to the timing of grain harvest, seeding method, species selection, available nutrients, and weather.
Funding for this project was provided by the North Central Extension Risk Management Education Center, the USDA National Institute of Food and Agriculture under Award Number 2015-49200-24226.
-30-
The Iowa Beef Center at Iowa State University was established in 1996 with the goal of supporting the growth and vitality of the state's beef cattle industry. It comprises faculty and staff from Iowa State University Extension and Outreach, College of Agriculture and Life Sciences and College of Veterinary Medicine, and works to develop and deliver the latest research-based information regarding the beef cattle industry. For more information about IBC, visit www.iowabeefcenter.org.
Contact:
Denise Schwab, ISU Extension beef specialist, 319-721-9624, dschwab@iastate.edu