Southwest Iowa Cow-Calf Short Course Focuses on Calving Management

note: pdf files open in new window/tab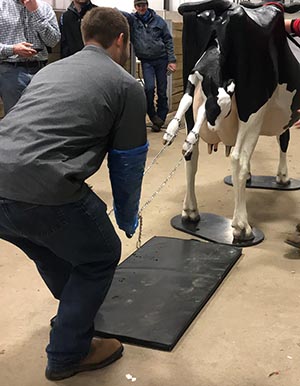 1/9/20
ATLANTIC, Iowa – A short course that combines both classroom learning and hands-on instruction will be offered by the Iowa State University Extension and Outreach on Jan. 27. Iowa State extension beef specialist Erika Lundy said this course will instruct cattle producers in areas specific to beef calving management, cow nutrition and financial management.
The program will be held at the at the Cass Co. Community Center at 805 W. 10th St. in Atlantic. Registration will begin at 10:30 a.m. with the program running from 11 a.m. to 4 p.m.
"The goal of the program is to provide an opportunity for cattlemen and women to enhance their management skills going into the 2020 calving season," Lundy said. "The program will feature a hands-on dystocia demonstration session utilizing a life-size calving simulator, and other sessions will focus on planning for newborn calf health management and processing and calving season first aid tips."
Other short course topics include a discussion focused on beef cow economics, record keeping and benchmarking tips, and the importance of beef cow nutrition during lactation leading up to breeding season. 

Speakers for the workshop are:
Dr. Tyler Dohlman, professor of veterinary diagnostic and production animal medicine at Iowa State
Dr. Nate Hansen, local veterinarian from Anita Veterinary Clinic
Beth Reynolds, ISU extension program specialist
Erika Lundy, ISU extension beef specialist
Registration for the course is $10 and includes materials and supplies. Lunch is provided thanks to sponsorship from Merck Animal Health.  Registration is requested by Jan. 24 by calling the Cass County Extension Office at 712-243-1132 or emailing ellundy@iastate.edu.  For questions about the course, please contact the Cass County extension office or view the program flyer.
-30-
The Iowa Beef Center at Iowa State University was established in 1996 with the goal of supporting the growth and vitality of the state's beef cattle industry. It comprises faculty and staff from Iowa State University Extension and Outreach, College of Agriculture and Life Sciences and College of Veterinary Medicine, and works to develop and deliver the latest research-based information regarding the beef cattle industry. For more information about IBC, visit www.iowabeefcenter.org.
Contact:
Erika Lundy, ISU Extension and Outreach beef specialist, 641-745-5902, ellundy@iastate.edu