Crawford County Pasture Walk will Focus on Benefits of Adding CRP Acres to Grazing Rotation

note: pdf files open in new window/tab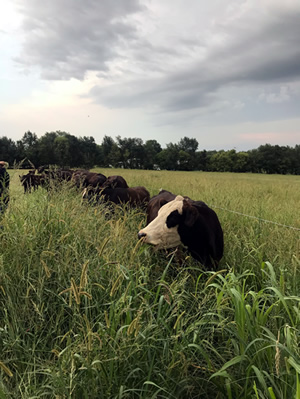 8/28/19
DENISON, Iowa – Iowa cattlemen often are faced with limited forage availability when it comes to extending the grazing season. Now, producers may have the option to add grazing Conservation Reserve Program acres to their grazing rotation in the spring and again in late summer.
Iowa State University extension beef specialist Erika Lundy said Iowa State Extension and Outreach, Crawford County Natural Resources Conservation Service, Crawford County Cattlemen and Iowa Beef Center are partnering on a Crawford County pasture walk to help increase awareness of this program and the benefits it can have for cattle, the land and wildlife. 
The event is set for Sept. 11 and will be hosted by Joe White, Lyle Rossiter and Clint Von Glan who are partnering to graze CRP acres enrolled in the program. They have seen benefits from this partnership and will share their stories at the pasture walk. Location is 1444 390th St., Westside.
The CRP Routine Grazing Program allows for haying or grazing eligible acres every other year in Iowa at a 25% reduction in payment. Pat Corey with Crawford County NRCS office will share the program requirements and offer some best management practices for such land.
Responsibly managing grazing has been shown to diversify plant species, help control weed pressure and provide benefits to wildlife habitat in the CRP acres. In addition, it supplies an alternative forage for utilization by the cow herd. Iowa State extension wildlife specialist Adam Janke will lead discussions on how successful grazing can positively impact wildlife habitat. 
Lundy, who also will speak at the event, said other topics include a temporary fencing demonstration and incorporations of cover crops for food plots and livestock grazing. 
A meal at 6 p.m. will be followed by the program at 6:30 p.m. The meeting and meal provided at no cost thanks to sponsors, but those interested are asked to RSVP to either the Crawford County Extension office at 712-263-4697 or by emailing Lundy at ellundy@iastate.edu. The event flyer has program and speaker information.
-30-
The Iowa Beef Center at Iowa State University was established in 1996 with the goal of supporting the growth and vitality of the state's beef cattle industry. It comprises faculty and staff from Iowa State University Extension and Outreach, College of Agriculture and Life Sciences and College of Veterinary Medicine, and works to develop and deliver the latest research-based information regarding the beef cattle industry. For more information about IBC, visit www.iowabeefcenter.org.
Contact:
Erika Lundy, ISU Extension and Outreach beef specialist, 641-745-5902, ellundy@iastate.edu