The Bull Calf is Focus of 2019 Dairy Beef Short Course

note: pdf files open in new window/tab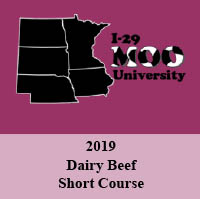 2/12/19
ORANGE CITY, Iowa – The 2019 Dairy Beef Short Course, held in conjunction with the Central Plains Dairy Expo, will focus on the importance and value of dairy beef bull calves in today's marketplace. As dairy and beef producers continue to experience economic struggles, increasing the value of bull calves can add value for dairymen, feeders and processors is vital.
Iowa State University dairy specialist Fred Hall said this year's short course will provide a wealth of information for attendees. It's set for Tuesday, March 26 in rooms 1 and 2 at the Denny Sanford Premier Center in Sioux Falls, South Dakota. Registration begins at 9:30 a.m. and the program runs from 10 a.m. to 3:15 p.m.

The program agenda features these three topics and presenters in the morning:
"Realizing Full Value in Holstein Steers"
Dr. Daniel Schaefer, University of Wisconsin-Madison
"Considerations for Choosing Beef Genetics To Use In Dairy Herds"
Warren Rusche, SDSU
"Dairy Cattle Impact on Beef Supply and Marketing Opportunities"
Dr. Brenda Boetel, University of Wisconsin
After the noon break for lunch and sponsor messages, Dr. Russ Daly of South Dakota State University will speak on "Enhancing the Value of Your Dairy Beef Bull Calf to Meet Health Concerns." Following that, a roundtable discussion on "Building a Carcass for the future" will be offered with these panel members:
Jerry Wulf, Wulf Cattle, Morris, MInnesota
Kent Pruismann, Rock River Feeders, Sioux Center
Erik Loe, Nutritional Consultant for Midwest PMS, Sioux Center
Duane Broek, Select Sires Representative, Watertown, South Dakota
The $20 registration fee includes educational materials, refreshments and lunch. Register online at https://tinyurl.com/dairybeefshortcourse before the March 20 deadline. There is no charge for parking or for attending the Dairy Expo.
The short course in hosted by the I-29 Moo University consortium, a collaboration of extension dairy specialists from Iowa, Minnesota, Nebraska, North Dakota, and South Dakota. For more Iowa information, contact contact Hall by phone at 712-737-4230 or email
fredhall@iastate.edu
.
-30-
The Iowa Beef Center at Iowa State University was established in 1996 with the goal of supporting the growth and vitality of the state's beef cattle industry. It comprises faculty and staff from Iowa State University Extension and Outreach, College of Agriculture and Life Sciences and College of Veterinary Medicine, and works to develop and deliver the latest research-based information regarding the beef cattle industry. For more information about IBC, visit www.iowabeefcenter.org.
Contact:
Fred Hall, ISU Extension and Outreach dairy specialist, 712-737-4230, fredhall@iastate.edu