I-29 Moo University Dairy Beef Short Course to Focus on Carcasses and Animal Health

note: pdf files open in new window/tab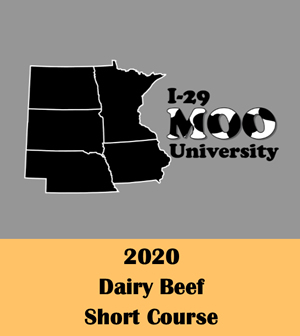 2/20/20
ORANGE CITY, Iowa – The I-29 Moo University Dairy Beef Short Course is scheduled for Tuesday, March 24, as part of the pre-educational events for the Central Plains Dairy Expo. It will be held in the Denny Sanford Premier Center, Sioux Falls, SD in rooms 8, 9, and 10.
"The focus of this year's program is dairy beef carcasses at the farm, processor and consumer end, along with targeting health considerations for maximum performance," said Iowa State University and Outreach Extension Dairy Field Specialist Fred M. Hall.
This year's presenters include Dr. Ty E. Lawrence from West Texas A&M University; Kevin Hueser, Senior Vice President of Beef Margin Management with Tyson; Bill Munns, Head of Sales and Supply Chain with JBS USA; Dr. Russ Daly, Extension Veterinarian and Professor in the Veterinary and Biomedical Sciences Department at South Dakota State University; and Dr. Jan Shearer, Professor and Extension Veterinarian at the Iowa State University College of Veterinary Medicine.
Registration begins at 9:30 a.m. and the program starts at 10 a.m. with Lawrence presenting "Finishing Dairy Cattle for Beef: The Good, the Bad and the Ugly." Munns is next on the agenda leading a discussion of the commercial science behind purebred Holstein beef, followed by Hueser speaking on dairy cross opportunities in the plant.
Lunch will be provided at 12:30 p.m., followed by Daly outlining health consideration for dairy beef cattle during the feeding period. Shearer is the final presenter for the day and he will share information on feedlot cattle lameness and economic impacts. The program will conclude at 3 p.m.
A registration fee of $25 per person covers the short course, lunch and copy of the proceedings. Preregistration is requested by March 20 and limited to 130 attendees on a first-come, first-serve basis. You can register here https://extension.sdstate.edu/event/2020-dairy-beef-short-course or on the I-29 Moo University website at https://dairy.unl.edu/i-29-moo-university. You also can register by mailing the registration fee to Tracey Erickson at 1910 West Kemp Ave., Watertown, SD 57201. Please include your contact information and any dietary restrictions when mailing in your registration information.
If attendees also plan on going to the Central Plains Dairy Expo | Welcome Reception you are encouraged to register for that ahead of time at https://www.centralplainsdairy.com/registration/.
The Dairy Beef Short Course, hosted by I-29 Moo University, is a collaboration of Iowa State University, South Dakota State University, University of Minnesota, , North Dakota State, and University of Nebraska Extension Services.
For more information contact Hall by email at fredhall@iastate.edu or ISU extension beef specialist Beth Doran by email doranb@iastate.edu , or either by phone at 712-737-4230.
-30-
The Iowa Beef Center at Iowa State University was established in 1996 with the goal of supporting the growth and vitality of the state's beef cattle industry. It comprises faculty and staff from Iowa State University Extension and Outreach, College of Agriculture and Life Sciences and College of Veterinary Medicine, and works to develop and deliver the latest research-based information regarding the beef cattle industry. For more information about IBC, visit www.iowabeefcenter.org.
Contact:
Fred Hall, ISU extension dairy specialist, 712-737-4230, fredhall@iastate.edu
Beth Doran, ISU extension beef specialist, 712-737-4230, doranb@iastate.edu