Dairy Beef Short Course Moves To Online Format for 2020 due to Covid-19

note: pdf files open in new window/tab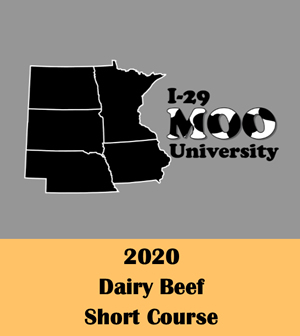 3/19/20
ORANGE CITY, Iowa – With the city of Sioux Falls, SD declaring a state of emergency due to the spread of COVID-19, the 2020 Central Plains Dairy Expo has been canceled. The I-29 Moo University Dairy Beef Short Course has traditionally led the Expo on Tuesday of Expo week. As one of the premier dairy beef events in North America, it has been transitioned to a webinar this year to minimize any possible exposure to the virus. The webinar remains on Tuesday, March 24, from 10 a.m. to 3 p.m. Central time, with a one hour break from 12:30 p.m. to 1:30 p.m.
For those already registered, you will receive a link to join the morning and afternoon webinar sessions and will be able to view, listen and ask questions at the end of the program.
The new format has removed restrictions on attendance because there are no room size and seating limitations, so additional registrations can be made at
https://extension.sdstate.edu/event/2020-dairy-beef-short-course
The registration fee will stay at $25 and is payable online. The links will be sent following completion of the online registration. An electronic copy of the proceedings also will be emailed to participants at the conclusion of the webinar. The registration will remain open until the day of the webinar,Tuesday, March 24.
Webinar presenters are industry leaders from across the country who are driving the national discussion on dairy beef. Presenters are Dr. Ty Lawrence, director of the Beef Carcass Research Center; Kevin Hueser, Senior Vice President of beef margin management with Tyson; Bill Munns, Head of sales and supply chain within the regional beef business at JBS USA; Dr. Russ Daly, Extension Veterinarian and professor in the Veterinary and Biomedical Sciences Department at South Dakota State University; and Dr. Jan Shearer, Professor and Extension Veterinarian at the Iowa State University College of Veterinary Medicine.
See the complete agenda here https://blogs.extension.iastate.edu/nwiadairyoutlook/2020/01/16/i-29-moo-university-dairy-beef-short-course-to-focus-on-carcasses-and-animal-health/
For additional information contact SDSU Extension Dairy Specialist Tracey Erickson at 605-882-5140.
-30-
The Iowa Beef Center at Iowa State University was established in 1996 with the goal of supporting the growth and vitality of the state's beef cattle industry. It comprises faculty and staff from Iowa State University Extension and Outreach, College of Agriculture and Life Sciences and College of Veterinary Medicine, and works to develop and deliver the latest research-based information regarding the beef cattle industry. For more information about IBC, visit www.iowabeefcenter.org.
Contact:
Fred Hall, ISU extension dairy specialist, 712-737-4230, fredhall@iastate.edu
Beth Doran, ISU extension beef specialist, 712-737-4230, doranb@iastate.edu