Frank Mitloehner is Leadoff Speaker at 2021 Driftless Region Beef Conference

note: pdf files open in new window/tab
12/14/2020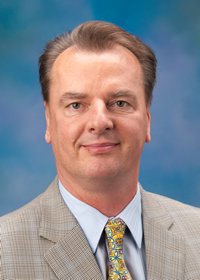 DUBUQUE, Iowa – The 2021 virtual Driftless Region Beef Conference will feature Dr. Frank Mitloehner, professor and air quality specialist at UC-Davis, as the leadoff speaker. He will focus on greenhouse gases and the sustainability of beef cattle production. His presentation will explain factors of climate change, livestock impacts, and the importance of ruminant livestock in the midst of growing pressures from environmental groups.
Iowa State University Extension beef specialist Denise Schwab said understanding the facts and fiction behind livestock production and emissions is the first step in debunking the myths of livestock and climate change.
"Attending Dr. Mitloehner's presentation via webinar format will give producers an opportunity to learn and equip themselves to engage in a positive discussion of livestock and climate change," she said.
The conference will have two presenters each evening of Jan. 26-28. All three sessions will run from 7 to 8:30 p.m. Other speakers and their topics are:
Dr. Kevin Bernhardt, UW Madison Division of Extension, "Building Farm Resiliency for Surviving Volatile Times."
Shawn Darcy, National Cattlemen's Beef Association, "What Consumers Say They Need and Want."
Dr. Paul Plummer, Iowa State University, "Antibiotic Resistance in the Beef Industry."
Dr. Danelle Bickett-Weddle, Iowa State University, "Being Prepared for a Beef Cattle Pandemic/Secure Beef (both cow-calf and feedlot)."
Dr. Brenda Boetel, UW Madison Division of Extension, "2021 Market Outlook."
Registration and more information on topics and speakers will be available soon on the program website. Preregistration is required.  Don't miss this opportunity to register to hear these great speakers at the reduced registration fee of just $15 this year.
Driftless Region Beef Conference sponsors are ISU Extension and Outreach, University of Illinois Extension and University of Wisconsin-Madison Division of Extension. For more information or to receive a brochure, contact Schwab at 319-472-4739.
-30-
The Iowa Beef Center at Iowa State University was established in 1996 with the goal of supporting the growth and vitality of the state's beef cattle industry. It comprises faculty and staff from Iowa State University Extension and Outreach, College of Agriculture and Life Sciences and College of Veterinary Medicine, and works to develop and deliver the latest research-based information regarding the beef cattle industry. For more information about IBC, visit www.iowabeefcenter.org.
Contact:

Denise Schwab, Iowa State University Extension and Outreach beef specialist, 319-721-9624, dschwab@iastate.edu