New Publication on Fall Cover Crops Available from Iowa Beef Center


note: pdf files open in new window/tab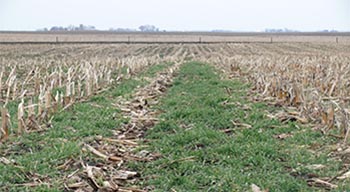 7/16/2020
AMES, Iowa –  Establishing cover crops following grain production is a proven tool to protect soil, reduce erosion, improve water quality and enhance soil quality. Many research and demonstration projects have focused on utilizing cover crops for spring grazing or spring harvest, but little has focused on the use of cover crops for fall feed.
As part of a demonstration project funded by a North Central Risk Management Extension Education grant, Iowa State University Extension specialists conducted interviews with producers across Iowa who had used fall grazing for at least two years. The cooperating producers were asked about a variety of topics, including their individual farming operations, cover crop species selection, seeding methods and rates, and animal health concerns.
ISU Extension beef specialist Denise Schwab was part of the team conducting the interviews. She said the results from those real-world experiences form the basis of a new publication, "Farmer Experiences with Fall Grazing Cover Crops" now available as a free download from the Iowa State extension store.
"Variable late summer, fall and winter weather is a factor in the challenge of both research and on-farm success with fall grazing," she said.  "However, extending the fall grazing season with cover crops can significantly reduce stored feed costs even if it is only for a few weeks."
This publication is a compilation of the producer comments and research that supports their practices. The 20 cooperators who were part of this project ranged from having two to 30 years of experience seeding cover crops with an average of 10 years of experience per producer. The cooperators averaged almost 400 acres of cover crops seeded annually.
The new publication IBC 0142 is available as a pdf file on the ISU Extension Store.
-30-
The Iowa Beef Center at Iowa State University was established in 1996 with the goal of supporting the growth and vitality of the state's beef cattle industry. It comprises faculty and staff from Iowa State University Extension and Outreach, College of Agriculture and Life Sciences and College of Veterinary Medicine, and works to develop and deliver the latest research-based information regarding the beef cattle industry. For more information about IBC, visit www.iowabeefcenter.org.
Contact:
Denise Schwab, Iowa State University Extension beef specialist, 319-721-9624, dschwab@iastate.edu
Writer:
Sherry Hoyer, Iowa Beef Center, 515-294-4496, shoyer@iastate.edu