Iowa Beef Center Provides New Information Pieces on Feeding CTC to Feedlot Cattle

note: pdf files open in new window/tab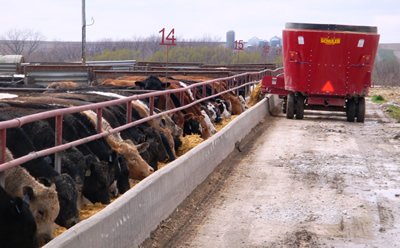 2/3/17
AMES, Iowa -- Confused about feeding Chlortetracycline to your beef cows or feedlot cattle? The transition of Chlortetracycline or CTC to a VFD drug has highlighted several issues that are raising questions or problems for Iowa beef producers, according to Iowa State University extension beef veterinarian Grant Dewell. He and others have developed two informational pieces to address those concerns.
"The Iowa Beef Center has two new information sheets that provide information on combination feeding of CTC with other feed medications, pulse feed CTC to treat respiratory disease in feedlot cattle and usage of CTC in a medicated mineral mix," Dewell said. "Both are two pages long, and available as electronic documents on the VDPAM website."
Dewell and Iowa Beef Center director Dan Loy wrote "Feeding CTC to Feedlot Cattle."
Dewell and extension beef program specialist Chris Clark wrote "Feeding CTC to beef cows."
Producers or others with questions can contact Dewell by email at gdewell@iastate.edu or by phone at 515-294-2822.
-30-
The Iowa Beef Center at Iowa State University was established in 1996 with the goal of supporting the growth and vitality of the state's beef cattle industry. It comprises faculty and staff from Iowa State University Extension and Outreach, College of Agriculture and Life Sciences and College of Veterinary Medicine, and works to develop and deliver the latest research-based information regarding the beef cattle industry. For more information about IBC, visit www.iowabeefcenter.org.