Register soon for Gerrish Grazing Series Sessions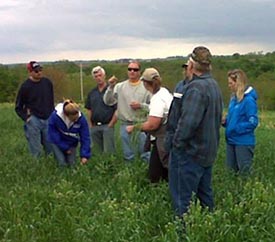 8/4/14
Contacts: Joe Sellers, Iowa State University Extension and Outreach beef program specialist, 641-203-1270, sellers@iastate.edu
Sherry Hoyer, Iowa Beef Center, 515-294-4496, shoyer@iastate.edu
CHARITON, Iowa -- Time is running out to register for one of five Iowa workshops featuring grazing consultant Jim Gerrish. Set for August 18-22, each workshop includes classroom discussions and pasture walks at local farms with Gerrish as the featured speaker, according to through Iowa State University Extension and Outreach beef program specialist Joe Sellers.
"The fee for each session is $40 for the public or $20 for current IFGC, ICA or PFI members. Walk-in registration is $10 extra," Sellers said. "A Gerrish session is included in both the 2014 Greenhorn Grazing and 2014 Certified Grazier registration fees, so there is no additional cost for participants in those courses. Fees are payable to Lucas County Extension or to the local site coordinator."
Topics include maintaining plant diversity to increase production and environmental benefits, using annual and perennial forage crops in your grazing system, and reducing cow costs with extended grazing.
"Jim's experience includes more than 20 years of beef forage systems research as a University of Missouri faculty member as well as 20 years of commercial cattle and sheep production on his family farm," Sellers said.
Sellers, who is a beef program specialist with Iowa Beef Center (IBC) and primary organizer of the series, said each local meeting also includes brief updates on current Iowa forage and beef production topics.
"Presenters from IBC, Natural Resources Conservation Service, Practical Farmers of Iowa, and Iowa Cattlemen's Association will share their expertise and information," he said. "The host farmers also will talk about their experiences with a variety of pasture techniques."
The session dates, times, and locations are below, along with a link to that specific session flyer. For more information or to preregister for any location, contact Sellers by phone at 641-203-1270 or email at sellers@iastate.edu
Monday, August 18  
10:30 a.m. Forage plot tour/lunch at McNay Farm, Chariton
1 p.m. Grazing workshop at McNay Farm, Chariton
5 p.m.  Pasture walk/barbecue at Jeff Lutz farm, Powersville, Missouri
Tuesday, August 19 
10:00 a.m. Pasture walk at Dan Hostetler Farm, Grand River
Noon  Lunch/grazing workshop at the Clarke County Fairgrounds, Osceola
5 p.m. Pasture walk/barbecue at Justin Rowe farm, Macksburg
Wednesday, August 20          
1 p.m. Grazing workshop at Maxwell Community Center, Maxwell
4:30 p.m. Pasture walk/barbecue at Bruce Carney farm, Maxwell
Thursday, August 21
9 a.m. Pasture walk at John Schulte Farm, Norway
1 p.m. Grazing workshop/lunch at Jones County Extension office, Monticello
5 p.m. Pasture walk/barbecue at Dave Lubben farm, Monticello
Friday, August 22
1 p.m.  Grazing workshop at Lee County Extension office, Donnellson
4:30 p.m. Pasture walk/barbecue at Mark Hulsebus farm, Donnellson
In addition to his beef forage systems research and outreach, and commercial cattle and sheep production, Gerrish is well known for his work with the University of Missouri - Forage Systems Research Center (FSRC). The center rose to national prominence as a result of his research leadership, which encompassed many aspects of plant-soil-animal interactions and provided foundation for the basic principles of management-intensive grazing. He co-founded the popular three-day grazing management workshop program at FSRC, which was attended by more than 3,000 producers and educators from 39 states and four Canadian provinces from 1990 through 2003. At least 16 other states have conducted grazing workshops based on the Missouri model and Gerrish has taught in 12 of them.
-30-
The Iowa Beef Center at Iowa State University was established in 1996 with the goal of supporting the growth and vitality of the state's beef cattle industry. It comprises faculty and staff from Iowa State University Extension and Outreach, College of Agriculture and Life Sciences and College of Veterinary Medicine, and works to develop and deliver the latest research-based information regarding the beef cattle industry. For more information about IBC, visit www.iowabeefcenter.org
2014 News and releases