ISU Extension Short Course will Help Producers Improve Grazing Knowledge and Skills

note: pdf files open in new window/tab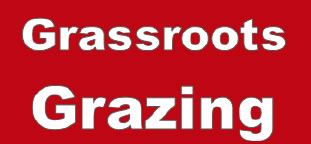 5/2/17
VINTON, Iowa -- Livestock producers with an interest in strengthening or transitioning grazing practices can sharpen their skills by attending Grassroots Grazing workshops in northeast Iowa this summer and fall. The series is offered by Iowa State University Extension and Outreach and regional Natural Resources Conservation Service offices, and consists of five different modules taught over the grazing season.
"Grassroots Grazing is designed for graziers interested in a more controlled or management-intensive grazing system," said Denise Schwab, Iowa State Extension beef program specialist. "Producers who want to optimize forage and livestock production, increase forage utilization and conserve natural resources will find the modules very informative."
The course will cover concepts relevant to producers of all grass-based livestock, whether it is beef, dairy, sheep or other animals, according to Schwab.
"This program is designed to help livestock producers evaluate their own pasture management and implement steps to increase their grazing efficiency," said Schwab. "This training features experienced graziers sharing their knowledge along with ISU and NRCS specialists; it's a great combination of academics with real-world experience."
Grassroots Grazing will be held in the Clayton, Delaware, Dubuque and Fayette county areas, but is available to any producers in northeast Iowa. Each workshop will have a classroom component with experienced instructors and a hands-on field component. Each will begin promptly at 4 p.m. and conclude by 9 p.m. The sessions are scheduled for June 14, June 28, Aug. 29, Sept. 13 and Nov. 15.
June 14
Brian Lang, Iowa State Extension agronomist: the basics of soil and fertility.
Pat Schaefers, Clayton County NRCS: converting CRP to grazing land.
Michelle German, NRCS soil conservationist: pasture evaluation.
Schwab: the importance of managing forage.
The pasture component will be at the Nick and Ted Smith pasture near Littleport, featuring converting a CRP field into rotationally grazing paddocks, paddock design, and water development.
June 28
Scott Flynn of Dow AgroSciences: weed and brush control, and planning for cover crop grazing. This will be at the Gene Tinker pasture.
Dave Mack, NRCS: cost share opportunities.
Erika Lundy, Iowa Beef Center: planning for cover crops.
Aug. 29
Iowa State sheep specialist Dan Morrical: animal grazing behavior, forage requirements and supplementing on pasture.
Gordon Shelangoski from Premier Fencing: fencing systems, and the Scott Cherne newly developed rotational pasture.
Sept. 13
Iowa State Extension agricultural engineer Greg Brenneman: watering system development.
Iowa State Extension beef program specialist Joe Sellers: grazing agreements.
NRCS resource conservationist Tina Cibula: soil health, on the Cam Schulte pasture near Garber.
Nov. 15
The final program will be held at the Mark Glawe farm near Garber and will feature cover crop grazing and companionship of cattle to row crops.
Short course sponsors include Iowa Beef Center, Dow AgroSciences and Arrowquip. The Leopold Center for Sustainable Agriculture sponsored development of the series. Registration fees include a resource notebook and a light dinner, and help offset speaker travel. The course fee is $50 for all five sessions in the series. Individual sessions are $20 each and include the evening meal, but do not include the full resource notebook.
The series brochure has content, speaker and location information for each location, as well as a registration form.
For more information on specific locations or details contact Denise Schwab at 319-721-9624 or
dschwab@iastate.edu
. To register, contact the Benton County Extension Office, at 319-472-4739.
-30-
The Iowa Beef Center at Iowa State University was established in 1996 with the goal of supporting the growth and vitality of the state's beef cattle industry. It comprises faculty and staff from Iowa State University Extension and Outreach, College of Agriculture and Life Sciences and College of Veterinary Medicine, and works to develop and deliver the latest research-based information regarding the beef cattle industry. For more information about IBC, visit www.iowabeefcenter.org.
Contact:
Denise Schwab, ISU Extension and Outreach beef program specialist, 319-721-9624, dschwab@iastate.edu