Next Session of Greenhorn Grazing Workshop Series is June 14

note: pdf files open in new window/tab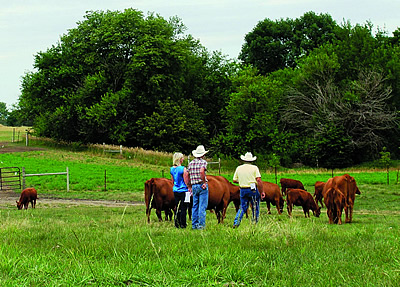 6/7/18
CHARITON, Iowa – The next session in this year's Greenhorn Grazing series at the Iowa State University McNay Research Farm is set for June 14, and organizer Joe Sellers said people who want to attend are encouraged to register soon for an accurate meal count. He said registration is still open for the remaining four sessions of this year's series at a total cost of $50, which is a great deal because it includes a meal at each session and a resource guide.
If people are interested only in the June 14 session, the cost is $15. All registrations, regardless of chosen length/fee should be sent with your name and contact information to the Lucas County Extension office, 48293 Hy-Vee Rd, Chariton, IA 50049-1900. Call Sellers at 641-203-1270 or email him at sellers@iastate.edu with any questions.
"The June 14 session will feature Iowa State experts on four individual topics," Sellers said. "As with all the sessions in this workshop series, it runs from 4:40 to 9 p.m. with half of the time in classroom learning and half will be in the pasture at the McNay Farm. Dinner is provided."
Topics and presenters for this session are:
Heavy use area protection, crossings, locating fences  – Greg Brenneman, Iowa State extension agricultural engineer
Managing fescue – Sellers, Iowa State extension beef specialist
Managing beef cattle health on pasture  – Chris Clark, Iowa State extension beef specialist
Managing pastures for livestock forage and wildlife habitat – Adam Janke, assistant professor and wildlife specialist
Information on all of the remaining four sessions is on the series flyer. Session dates are June 14, July 12, Aug. 30, and Nov. 8.
Sponsors are Iowa Beef Center, Iowa State Extension and Outreach, and Lucas County Extension.
-30-
The Iowa Beef Center at Iowa State University was established in 1996 with the goal of supporting the growth and vitality of the state's beef cattle industry. It comprises faculty and staff from Iowa State University Extension and Outreach, College of Agriculture and Life Sciences and College of Veterinary Medicine, and works to develop and deliver the latest research-based information regarding the beef cattle industry. For more information about IBC, visit www.iowabeefcenter.org.
Contact:
Joe Sellers, ISU Extension and Outreach beef specialist, 641-203-1270,  sellers@iastate.edu