Final Session of Greenhorn Grazing Workshop Series is Nov. 8

note: pdf files open in new window/tab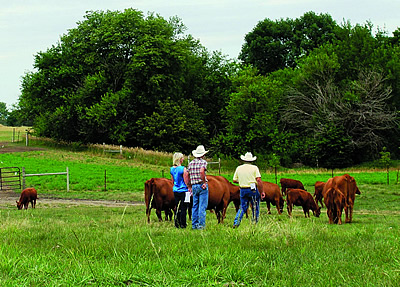 10/30/18
CHARITON, Iowa – Iowa State University Extension and Outreach will host the final session of Greenhorn Grazing 2018 on Nov. 8 at the ISU McNay Research Farm near Chariton. The meeting will run from 4:30 p.m. to approximately 9 p.m. and dinner is included. The Greenhorn Grazing program is a five-part series that offers an introduction to grazing management and rotational grazing practices.  Program curriculum helps producers who want to optimize forage and livestock production, control production costs and conserve natural resources.
Although this meeting is part of a series, producers are welcome to attend individual sessions. Individual session registration is $15 per session and new registrants should preregister for this final session by Nov. 6 by calling the Lucas County Extension Office at 641-774-2016 or Iowa State University extension beef specialist Chris Clark at 712-250-0070, or by emailing Clark at caclark@iastate.edu.  Participants who have already registered and attended previous 2018 sessions do not need to register again.
Discussion topics will include optimizing winter grazing, electric fencing systems, fertility recommendations for pastures, winter beef cow nutrition, and general grazing management, and Iowa State Extension and Outreach specialists and industry partners will lead the topics. Please contact Clark for further information. 

"Please consider joining us as we wrap up this series for 2018," Clark said. "We have some really good topics on the agenda that will provide some very useful information to producers."
Sponsors are Iowa Beef Center, Iowa State Extension and Outreach, and Lucas County Extension.
-30-
The Iowa Beef Center at Iowa State University was established in 1996 with the goal of supporting the growth and vitality of the state's beef cattle industry. It comprises faculty and staff from Iowa State University Extension and Outreach, College of Agriculture and Life Sciences and College of Veterinary Medicine, and works to develop and deliver the latest research-based information regarding the beef cattle industry. For more information about IBC, visit www.iowabeefcenter.org.
Contact:
Chris Clark, ISU Extension and Outreach beef specialist, 712-250-0070, caclark@iastate.edu