Greenhorn Grazing Workshop Series Returns to Southern Iowa

note: pdf files open in new window/tab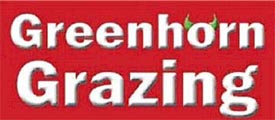 4/4/17
WINTERSET, Iowa -- Livestock producers interested in learning to optimize forage and livestock production while conserving natural resources are invited to attend the 2017 Iowa Greenhorn Grazing series in Winterset. Iowa State University Extension and Outreach beef program specialist Joe Sellers said the series has been a popular management course with more than 250 producers attending over the past seven years.
"This five-part series covers concepts relevant to all producers of grass-based livestock with topics ranging from the importance of managing forage, soil fertility, and water and fencing systems, to forage species selection, legal fencing and lease issues to winter feeding plans," Sellers said. "The five sessions are set in June through November, and all will have classroom and field segments."
Sellers and other experts from Iowa State, the Natural Resources Conservation Service and private industry will lead the discussions. Local producers will host the pasture walk portions of the course, explaining their operation goals and management practices.
"This series was developed to deliver timely materials and hands-on workshops for producers interested in improving their forage management system," Sellers said. "Producers will learn how to improve the productivity and protection of their land."
Individual workshops are scheduled for June 6, June 27, Aug. 1, Sept. 26 and Nov. 14. All begin at 4 p.m. at the Madison County Extension Office, at 117 N. John Wayne Dr. in Winterset, and conclude at a farm location in the evening. The program flyer has details for all sessions and registration information.
Support from the Leopold Center for Sustainable Agriculture, the Iowa Beef Center, and the Madison County Cattlemen's Association help keep the series cost low at $50. Participants are urged to attend all sessions, but fees for individual sessions are available. The fee includes a meal and educational materials for each session.
Producers are asked to register by June 1 by calling either the Madison County Extension Office at 515-462-1001 or Sellers at 641-203-1270, or emailing Sellers at
sellers@iastate.edu.
-30-
The Iowa Beef Center at Iowa State University was established in 1996 with the goal of supporting the growth and vitality of the state's beef cattle industry. It comprises faculty and staff from Iowa State University Extension and Outreach, College of Agriculture and Life Sciences and College of Veterinary Medicine, and works to develop and deliver the latest research-based information regarding the beef cattle industry. For more information about IBC, visit www.iowabeefcenter.org.
Contact:
Joe Sellers, Iowa State University Extension beef program specialist, 641-203-1270, sellers@iastate.edu