This program has been postponed and will be rescheduled at a later date.
On-Farm Hoop Barn Calving Management Workshop to be Held March 28

note: pdf files open in new window/tab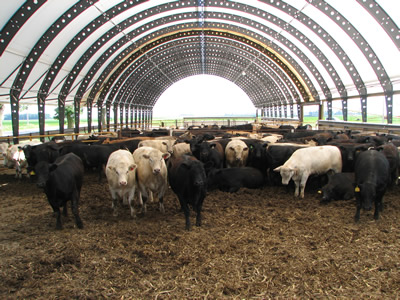 3/17/17
CHARITON, Iowa -- As interest in using hoop barns for calving continues to grow, so does the need to understand the unique management techniques necessary for this approach. Joe Sellers, Iowa State University Extension beef program specialist, has scheduled an on-farm workshop to address this need.
"This workshop was planned as a result of discussions at some Extension-led groups who met earlier this year in West Des Moines," he said. "Members from both 'Women Managing Cattle' and 'Start to Farm' indicated their interest in learning more about this topic, and we went from there."
The workshop will be held Tuesday, March 28, beginning at 6 p.m. at the Brewer Family Farm near Dallas Center. It will be hosted by Joe and Brenda Brewer who will share their experiences and knowledge related to hoop barn calving.
"The Brewers will talk about how they manage calving in their hoop barn, the importance of maintaining health and nutrition, and incorporating calving genetics," Sellers said. "Multiple uses of facilities is also on the agenda."
The farm location is 19284 S Ave, Dallas Center, and Sellers said the workshop will be held outside and in the hoop barn, so attendees should dress appropriately. See the workshop flier.
Those interested in attending are asked to preregister by noon, March 27. For more information, to ask about weather postponement or to preregister, contact Sellers by phone at 641-203-1270 or email him at sellers@iastate.edu, or call Joe Brewer at 515-669-5437.
This event is sponsored by Iowa Beef Center, ISU Extension and Outreach, and the Start to Farm project.
-30-
The Iowa Beef Center at Iowa State University was established in 1996 with the goal of supporting the growth and vitality of the state's beef cattle industry. It comprises faculty and staff from Iowa State University Extension and Outreach, College of Agriculture and Life Sciences and College of Veterinary Medicine, and works to develop and deliver the latest research-based information regarding the beef cattle industry. For more information about IBC, visit www.iowabeefcenter.org.
Contact:
Joe Sellers, Iowa State University Extension beef program specialist, 641-203-1270, sellers@iastate.edu
Writer:
Sherry Hoyer, Iowa Beef Center, 515-294-4496, shoyer@iastate.edu