Iowa Beef Center Staff and Faculty Receive Team, Individual Awards

note: pdf files open in new window/tab
4/21/20
AMES, Iowa – No one knew it at the time, but a partnership begun in 2017 with the Iowa Beef Industry Council b was the starting point of a concerted educational effort by the Iowa Beef Center team that continues to reach producers throughout the state. The team's 10 Iowa State University staff and faculty were recently honored for their ongoing work with the Iowa Beef Quality Assurance program by receiving the Excellence in Partnership to Iowans award by Iowa State University Extension and Outreach.
In conjunction with the National Beef Checkoff and IBIC, the team developed curriculum for the program, which was approved by USDA. Last year most beef packers and fed cattle auction markets started requiring BQA certification for farmers delivering cattle for market to their businesses, making certification a necessary part of selling cattle for most producers.
In 2018 and 2019, the team held 103 training sessions, in which they taught attendees about animal health, handling and other industry topics, leading to the certification of more than 6700 producers in the Beef Quality Assurance program. These training sessions often were offered through cooperative efforts with the Iowa Cattlemen's Association, county cattlemen's associations, livestock auction markets, agribusiness companies, county ISU Extension partners and more. This educational program also offered BQA Transportation sessions for those involved in transporting cattle with 200 participants trained in 7 separate events.
IBC team award recipients are:

top row: Dan Loy, Iowa Beef Center director; Katy Lippolis, former extension cow-calf specialist; Grant Dewell,
extension beef veterinarian; Beth Reynolds, IBC program specialist; and extension beef specialist Chris Clark
second row: extension beef specialists Beth Doran, Russ Euken, Erika Lundy, Denise Schwab and Patrick Wall
The team was recognized during the 2020 ISU Extension and Outreach virtual annual conference this month.
Dahlke receives Outstanding Achievement Award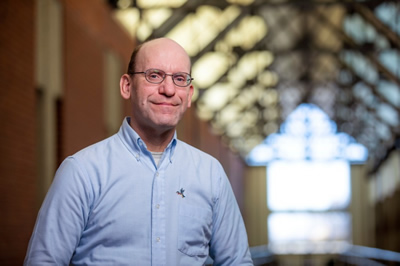 IBC associate scientist Garland Dahlke also was honored recently by ISU's College of Agriculture and Life Sciences. He received the Outstanding Achievement in Extension and Outreach Award for his work combining technology with practical feeding, rations and breeding information for the industry.
His expertise supports national work in technology development with software, spreadsheets and other applications for beef cattle and other livestock species. He is the one with the answers for anyone using the Beef Ration and Nutrition Decision Software – BRaNDS; the ISU Feedlot Monitoring Program and the Feed Intake Monitoring System (FIMS. ) He's an ISU representative on the National Beef Reproduction Task Force and based on the group's research, updates the group's Estrus Synch protocols at least annually. He also developed the multigroup estrus synchronization version and both programs have been extremely popular as evidenced by the several thousand free downloads from the IBC website since 2013.
Because the spring CALS award ceremony was postponed due to COVID-19. Dahlke and other award recipients will be honored during the fall convocation in September.
-30-
IBC was established in 1996 with the goal of supporting the growth and vitality of the state's beef cattle industry. It comprises faculty and staff from Iowa State Extension and Outreach, College of Agriculture and Life Sciences, and College of Veterinary Medicine, and works to develop and deliver the latest research-based information regarding the beef cattle industry. For more information about IBC, visit www.iowabeefcenter.
Contact:
Dan Loy, Iowa Beef Center, 515-294-1058, dloy@iastate.edu
Writer:
Sherry Hoyer, Iowa Beef Center, 515-294-4496, shoyer@iastate.edu