Beef Cow Production Meetings to Highlight New Iowa Cowmaker Elite Program

note: pdf files open in new window/tab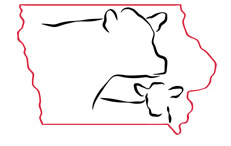 Updated 10-26-17
Note change of location for Nov. 21 morning session to Jones County Extension Office in Monticello.
10/24/17
AMES, Iowa – Producers across the predominant cow-calf sector of Iowa will have five opportunities next month to learn about reproductive efficiency from a number of angles and to investigate a new approach to managing heifers. Iowa State University Extension and Outreach beef specialist Patrick Wall said these five meetings, set for Nov. 17-21, will cover selecting the right genetics, the right heifer and the right bull to achieve individual herd goals.
"The proper timing and attention to detail for a successful A.I. program will also be vetted including age, implants, stress, nutrition, handling, synch protocols and health," he said. "Attendees will also have the opportunity to enroll their 2017 heifer calf crop in the Iowa Cowmaker Elite program at the conclusion of the meeting."
This series begins Nov. 17 in Creston (10 a.m. to 2 p.m.) and Guthrie Center (4-7 p.m.) Sessions also be will held Nov. 20 at the McNay Research Farm near Chariton (10 a.m. to 2 p.m.), and on Nov. 21 in Monticello (10 a.m. to 2 p.m.) and Washington (5-8 p.m.) There's no fee to attend and several meetings will conclude with tours of cooperating heifer development locations. See the series flyer for details.
"We need our cows to celebrate more birthdays in order to enhance profitability and limit depreciation expense," Wall said. "The ICE program is designed to help producers select and manage heifers to stay in the herd past age 8, and ensure that her daughters do, too."
These meetings will feature Dr. Sandy Johnson of Kansas State University who will cover two topics: the attention to detail necessary to achieve a top-notch heifer development program, and use of The Management Minder, a calendar tool used to help producers achieve proper timing when managing heifers.
"The Minder is incredibly easy to use and especially useful for producers who want to manage their heifers for the ICE program at home," Wall said.
For additional information, visit the ICE web page or contact Wall by email or phone at 515-450-7665. 
-30-
The Iowa Beef Center at Iowa State University was established in 1996 with the goal of supporting the growth and vitality of the state's beef cattle industry. It comprises faculty and staff from Iowa State University Extension and Outreach, College of Agriculture and Life Sciences and College of Veterinary Medicine, and works to develop and deliver the latest research-based information regarding the beef cattle industry. For more information about IBC, visit www.iowabeefcenter.org.
Contact:
Patrick Wall, ISU Extension and Outreach beef specialist, 515-450-7665, patwall@iastate.edu