2020 Iowa Forage and Grassland Council Winter Conference Goes Virtual


note: pdf files open in new window/tab
11/10/2020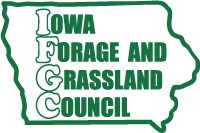 AMES, Iowa - This year, the Iowa Forage and Grassland Council (IFGC) board members have decided to offer the state's premier forage educational event online. The virtual 2020 conference will feature four presentations on timely topics regarding managing forages after a year of difficult weather patterns. All presentations will be prerecorded and released on Tuesday, Nov. 24 at 9 a.m.
The session titles, presenters and their affiliations are:
Grazing Down Corn Residue – Denise Schwab, ISU extension beef specialist, northeast Iowa
Managing Drought Damaged Pastures – Joe Sellers, IFGC board member and retired ISU extension beef specialist
Emergency Forage: Options Available for Quick Feed – Luke Wilson, Barenbrug USA
Knowing the True Value of Your Forest: A Forestry Primer for Agricultural Producers and Graziers – Dr. Billy Beck, ISU extension forestry specialist
These educational videos will be available at no charge; however, registration is required for that access. To offer flexibility for viewers, sessions can be viewed at any time following the Nov. 24 release. To register, please visit https://agribiz.swoogo.com/ifgc2020/.
The Iowa Forage and Grassland Council is an organization dedicated to advancing forage-based agriculture in the state. To learn more about the organization, please visit www.iowaforage.org.  If you're interested in becoming a member or wish to renew your membership, please email joano@agribiz.org.
-30-
The Iowa Beef Center at Iowa State University was established in 1996 with the goal of supporting the growth and vitality of the state's beef cattle industry. It comprises faculty and staff from Iowa State University Extension and Outreach, College of Agriculture and Life Sciences and College of Veterinary Medicine, and works to develop and deliver the latest research-based information regarding the beef cattle industry. For more information about IBC, visit www.iowabeefcenter.org.
Contact:
Erika Lundy, ISU Extension and Outreach beef specialist, 641-745-5902, ellundy@iastate.edu