Iowa Forage and Grassland Council Conference Set for January 18

note: pdf files open in new window/tab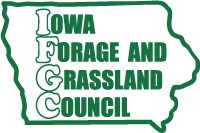 12/13/17
DES MOINES, Iowa – The annual Iowa Forage and Grassland Council Conference features a great lineup of speakers and topics at its 2018 event. The conference, set for Jan. 18, remains in Ames at the Iowa State University Alumni Center, just south of Stephens Auditorium at the Iowa State Center.
Registration begins at 8 a.m. with the morning speakers at 9 a.m. Lunch at noon includes the IFGC annual meeting and award recognition, and is followed by a producer panel and speakers. Starting at 3:15 there will be two breakout sessions, each with two options to choose from, and the day ends at 5 p.m. with a networking opportunity for speakers and attendees.
ISU Extension and Outreach beef specialist and IFGC past president Joe Sellers said IFGC is partnering with Practical Farmers of Iowa to offer the 11 a.m. and 2 p.m. sessions presented by Kathy Voth and Rachel Gilker from On Pasture, an online source of science-based, easily understood and relevant information from research to help producers learn more about raising livestock on pasture in profitable and healthful ways. Read more on their website.
Conference topics and speakers
Establishing Alfalfa in Silage Corn – Dr. John H. Grabber, USDA-ARS, Dairy Forage Research Center, Madison, WI
Corn Silage Quality: Before, During and After Storage – Dr. Hugo Ramirez, Iowa State Extension dairy specialist
When to Spend Your Money: Fake Science or Good Practice – Kathy Voth and Rachel Gilker, On Pasture
Alternative Water Systems – Producer Panel: Ron Dunphy, Justin Rowe, Patrick Wall
Will Grazing Save the Planet? – Voth and Gilker
Grazing Management for Wildlife – Adam Jahnke, Iowa State Extension wildlife specialist
Iowa Fence Law – Kristine Tidgren, Iowa State Center for Ag Law and Taxation
Using BRaNDS to Stretch Feed and Forage Supplies Following a Drought – Garland Dahlke, assistant scientist, Iowa Beef Center
Soil Health – Doug Peterson, NRCS regional soil health specialist
"Thanks to support from the North Central Sustainable Agriculture Research and Education – or SARE - program, the Iowa Beef Center at Iowa State, the Iowa Farm Bureau, Natural Resources Conservation Service, PFI, Dow AgroSciences, Barenbrug, and La Crosse Seed, the cost to attend is low," Sellers said. "IFGC and PFI members pay just $40 in advance or $50 at the door. Non-members pay $60 or $70 respectively. IFGC 2018 membership dues also can be paid at this time."
The detailed agenda and registration form are available on the IBC website and at http://www.iowaforage.org.
For more information, contact Sellers by phone at 641-203-1270 or by email at
sellers@iastate.edu
-30-
The Iowa Beef Center at Iowa State University was established in 1996 with the goal of supporting the growth and vitality of the state's beef cattle industry. It comprises faculty and staff from Iowa State University Extension and Outreach, College of Agriculture and Life Sciences and College of Veterinary Medicine, and works to develop and deliver the latest research-based information regarding the beef cattle industry. For more information about IBC, visit www.iowabeefcenter.org.
Contact:
Joe Sellers, Iowa State University Extension beef specialist, 641-203-1270, sellers@iastate.edu
Writer:
Sherry Hoyer, Iowa Beef Center, 515-294-4496, shoyer@iastate.edu