Iowa Beef Producer Bus Tour to Kansas Planned

note: pdf files open in new window/tab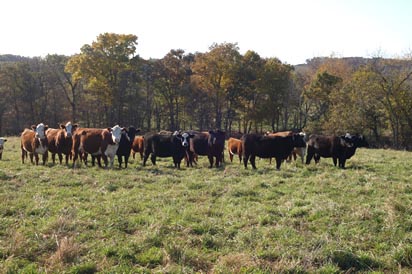 6/5/18
CHARITON, Iowa – A three-day bus trip to Kansas in August will offer Iowa beef producers the opportunity to tour beef industry breed organizations, visit a variety of private and Kansas State University facilities, and talk with successful producers and researchers. Iowa State University Extension and Outreach beef specialist Joe Sellers said the Aug. 22-24 trip will provide a wealth of information, experiences and discussion opportunities to tour attendees.
The trip begins Thursday, Aug. 22 with the bus departure from Ames at 7:30 a.m., Lucas County Fairgrounds in Chariton at 9:45 and Decatur City at 11 a.m. Tentative stops include American Hereford Association headquarters, American Angus Hall of Fame, Judd Ranch, Kniebel Cattle Company, Tiffany Feedlot, Fink Beef Genetics, Valley Oaks Steaks, Kansas State University Beef Unit and feed efficiency barn. Tour sponsors are Midwest Heritage Bank, Zoetis Animal Health and the Iowa Beef Center at Iowa State. A full itinerary is under development.
Both overnight stays will be at the Hampton Inn in Manhattan, KS. See a tour flyer for more information on the tour, travel and lodging.
"Participants are responsible for their own room reservations, a registration fee of $115 fee payable to Lucas County Extension, and some meals during the trip," Sellers said. "Preregistration for the bus must be made by July 22 to assure access to a seat."
A block of rooms is being held under "ISU Extension beef tour" until July 22. Rate listed is for standard rooms with two queen beds or one king bed, not including tax, and includes free breakfast and pool access. Contact the Hampton Inn to make your lodging arrangement at 785-539-5000.
To register for the bus tour, send a check for $115 per person to Lucas County Extension, 48293 Hy Vee Rd, Chariton, Iowa 50049. For more information on the trip or transportation, contact Sellers by phone at 641-203-1270 or email at sellers@iastate.edu
-30-
The Iowa Beef Center at Iowa State University was established in 1996 with the goal of supporting the growth and vitality of the state's beef cattle industry. It comprises faculty and staff from Iowa State University Extension and Outreach, College of Agriculture and Life Sciences and College of Veterinary Medicine, and works to develop and deliver the latest research-based information regarding the beef cattle industry. For more information about IBC, visit www.iowabeefcenter.org.
Contact:
Joe Sellers, Iowa State University Extension beef specialist, 641-203-1270, sellers@iastate.edu