McNay Memorial Research and Demonstration Farm Field Day to Focus on Forages, Cover Crops and Cattle Research Projects

note: pdf files open in new window/tab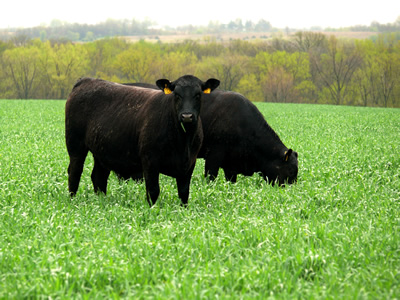 7/12/18
CHARITON, Iowa – The 2018 field day of the Iowa State University McNay Memorial Research Farm southwest of Chariton will provide updates on grazing cover crops, summer annual and alfalfa trials, pasture renovation and Canadian thistle control.
Iowa State Extension and Outreach beef specialist Joe Sellers organizes this event, and said that in addition to plant-based information, the Aug. 7 event will provide the latest in selected beef cattle research projects at the farm, the Iowa Beef Center cow systems project and some local on-farm soil health demonstrations.
"Presentations are scheduled from Iowa State staff, Lucas County NRCS folks and Prairie Creek Seeds who will offer information and results from a variety of beef-related and soil-related research," Sellers said. "There's no cost to attend and no preregistration is necessary. The program starts at 3:30 p.m. at the farm, and includes a grilled burger dinner prepared and served by the Lucas County Cattlemen's Association."
The annual field day offers the opportunity for beef producers and others to hear and see the latest information from research projects, trials and demonstration fields at the McNay Farm.
The event flyer has a listing of all program topics and presenters.
The McNay farm is located at 45249 170th Ave., Chariton. For directions to the facility, see the farm webpage or call the farm directly at 641-766-6465. For more information on the field day program, contact Sellers by phone at 641-203-1270 or email, or call the farm at 641-766-6465.
-30-
Note: All event attendees should follow Iowa State livestock farm visitor policies:
There is a five-day waiting period prior to visiting Iowa State University livestock farms if you have traveled outside the United States.
If you have visited another livestock farm, you are asked to change clothing and footwear.
Visitors are not allowed to bring food to the research farms.

If you have any questions, please call the Research and Demonstration Farms office at 515-294-5045 or read the
Foot and Mouth Advisory.
The Iowa Beef Center at Iowa State University was established in 1996 with the goal of supporting the growth and vitality of the state's beef cattle industry. It comprises faculty and staff from Iowa State University Extension and Outreach, College of Agriculture and Life Sciences and College of Veterinary Medicine, and works to develop and deliver the latest research-based information regarding the beef cattle industry. For more information about IBC, visit www.iowabeefcenter.org.
Contact:
Joe Sellers, Iowa State University Extension beef specialist, 641-203-1270, sellers@iastate.edu