Year-End Beef Quality Assurance and BQA Transportation Workshops Set in Northwest Iowa


note: pdf files open in new window/tab
11/12/2020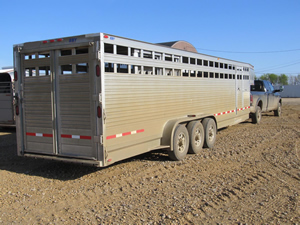 ORANGE CITY, Iowa — Producers needing to renew or obtain their certification in Beef Quality Assurance (BQA) or Beef Quality Assurance Transportation have a couple of opportunities to do so in northwest Iowa. In-person trainings offered by the Iowa Beef Center, Iowa State University Extension and Outreach and the Iowa Beef Industry Council at no cost are set for early December.
A majority of packers and local auction barns require cattle sellers to be BQA certified. Producers or custom transporters hauling cattle directly to a packing plant on their own trailer also must be BQA Transportation certified. These two certifications are not synonymous.
A BQA training is scheduled for Dec. 1 from 10 a.m. to noon at the Calhoun County Expo Center in Rockwell City. An optional lunch ($10 per person) will be offered from noon to 12:30 p.m., followed by a BQA Transportation training from 12:30 to 2:30 p.m. Participants may register for both sessions or a single session by calling the Calhoun County Extension Office at 712-297-8611.The snow date is Dec. 3.
A second in-person BQA transportation workshop is set for Dec. 8 from 1 to 3 p.m. at the ISU Extension and Outreach Office in Orange City. Please RSVP to the Sioux County Extension Office at 712-737-4230.
Attendance at all sites is limited and face masks are required. Walk-ins will NOT be allowed. Those unable to attend an in-person training may complete their trainings on-line at no cost at these websites:
For information, feel free to contact Beth Doran, ISU Extension and Outreach beef specialist, at 712-737-4230 or email doranb@iastate.edu.
-30-
The Iowa Beef Center at Iowa State University was established in 1996 with the goal of supporting the growth and vitality of the state's beef cattle industry. It comprises faculty and staff from Iowa State University Extension and Outreach, College of Agriculture and Life Sciences and College of Veterinary Medicine, and works to develop and deliver the latest research-based information regarding the beef cattle industry. For more information about IBC, visit www.iowabeefcenter.org.
Contact:
Beth Doran, ISU Extension and Outreach beef specialist, 712-737-4230, doranb@iastate.edu