Spring Pasture Management Tips for Cattle Producers

note: pdf files open in new window/tab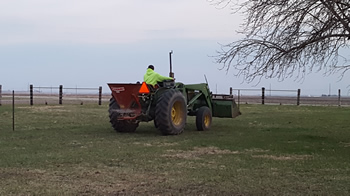 4/23/19
AMES, Iowa – Following the rough winter and high feed prices, many producers are anxious to get cows turned out to pasture. Taking time now to check your pastures and your grazing plan will help ensure a more successful grazing season. The Iowa Beef Center team put together the following list of six spring pasture management tips. If you need assistance in planning how to prepare your pastures or with developing a grazing plan, contact your ISU beef specialist.
Scout fields now to determine which paddocks are greening up first and show the most early growth.
It's likely these are the same paddocks that had the longest rest going into winter. Target these paddocks for grazing first, but wait until they have reached about 4 to 6 inches of growth before grazing. Starting too soon will help relieve feeding stored feed but will reduce the amount of forage available later in the grazing season.
Normally we have more than adequate early season grass growth so don't need to fertilize early, but this year may be the exception.
Adding 60 to 80 lbs. of nitrogen to grass pastures will help get more early forage growth allowing the most damaged paddocks additional time to recover before grazing. If you're able to harvest some of the early growth as hay, you may want to fertilize all pastures. If you can't harvest hay from pastures, you may want to strategically fertilize some paddocks now and others in late May to help boost summer growth.
What is a pound of nitrogen fertilizer worth? University of Wisconsin data showed one pound of nitrogen fertilizer applied to tall cool season grasses in early May increased forage growth 21 to 26 lbs. of dry matter. If urea costs $0.46 per pound of N and hay is valued at $120/ton, then 70 lbs. of N will cost $32.20 per acre for fertilizer. This resulted in 1470 to 1820 lbs. additional feed worth about $88-109 per acre.
If you haven't done a soil test on your pastures recently, now is a good time to get that done.
Plants respond better to Nitrogen fertilizer when the P and K levels are adequate. If P and K levels are low or very low, consider fertilizing to bring them up to the optimum level. For more information on P and K recommendations see "A General Guide for Crop Nutrient and Limestone Recommendations in Iowa," available on the Extension store.
Paddocks with a thin stand of forages or that were used as winter feeding areas, may need some additional forages interseeded to thicken the stand.
Some species establish better into existing sod than others, refer to the forage section of the IBC website for more information. Interseeding legumes into existing grass sods also will provide a source of additional nitrogen in the future.
If you have consistently been short on summer pasture growth, adding a summer annual paddock may be beneficial.
Warm-season annual species (sudangrass and Japanese millet) seeded in late May or early June can produce 3 to 5 tons of forage dry matter per acre and be ready to graze about mid-July. Many of the warm season species can tolerate grazing two or three times throughout the summer and into the fall if managed correctly, allowing other pasture acres a recovery period. Sorghum and sudangrass do need to be managed to prevent prussic acid poisoning. The Pasture Management Guide available through the ISU Extension store suggests not grazing sudangrass until it reaches 15 to 18 inches or taller, and hybrid sorghum/sudangrasses when 28 to 30 inches or taller, since the highest concentration of prussic acid is in the lower stem and the lush new shoots. Also leave about 6 to 8 inches of stubble to aid in regrowth for the next cycle of grazing.
If you haven't already subdivided your pasture into paddocks, now is a good time to do so. Rotating paddocks increases forage growth and utilizes more of the forage we grow for cattle growth. Pastures divided into three to five paddocks can increase productivity 10–15%, and increasing to six to ten paddocks can increase productivity an additional 5–10%. Subdividing pastures and using rotational grazing allows those paddocks stressed the hardest this winter to recuperate, and also provides longer term benefits of increased forage diversity and production.
-30-
The Iowa Beef Center at Iowa State University was established in 1996 with the goal of supporting the growth and vitality of the state's beef cattle industry. It comprises faculty and staff from Iowa State University Extension and Outreach, College of Agriculture and Life Sciences and College of Veterinary Medicine, and works to develop and deliver the latest research-based information regarding the beef cattle industry. For more information about IBC, visit www.iowabeefcenter.org.
Contact:
Denise Schwab, Iowa State University Extension beef specialist, 319-721-9624, dschwab@iastate.edu