Pricing Corn Silage

note: pdf files open in new window/tab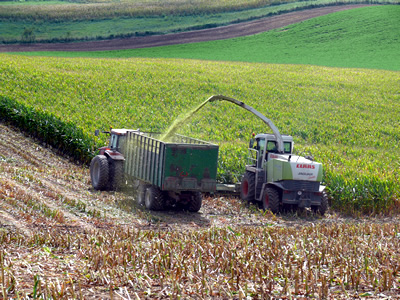 9/6/19
AMES, Iowa – In the absence of a reported market price, determining a fair price for corn silage is a negotiation between buyer and seller. As in most negotiations, the fair price is what the seller and buyer agree to, but there are many variables to consider in negotiating that price.
The biggest factors in determining price are the feed value of the silage, which is of interest to the buyer, and replacing the potential corn grain value, which is of interest to the seller. The feed value can be determined by the cost of alternative feed i.e. corn grain and forage or by a feed analysis. In addition to the corn price and potential corn yield there are other factors to consider. These include moisture and maturity at harvest, additional nutrient removal with silage harvest, alternative forage price and potential harvest and storage losses.
 A rule of thumb for pricing is using a factor of 8 times the corn price for standing corn and 10 times the price of corn for harvested silage per ton for typical silage. To help fine-tune pricing, consider using a spreadsheet or silage price calculator which can help take many of those considerations into account. One such tool is available on the Iowa State Ag Decision Maker website https://www.extension.iastate.edu/agdm/crops/html/a1-65.html. The spreadsheet helps determine a minimum price from the view point of the seller and a maximum price for the viewpoint of the buyer.
Use the spreadsheet and make the following assumptions for harvesting and storage costs and additional fertilizer costs:
$35/acre for grain harvest and $85/acre for silage harvest
$0.05/bushel to handle and store grain and $2.50/ton to handle and store silage
$0.20/bushel drying cost for the corn
Fertilizer cost for phosphorus and potassium is $0.35/lb. Forage price for alternative forage is $60/ton
Then estimating a 180-bushel corn grain yield at $3.75/bushel or a 23 ton/acre corn silage yield at 35% dry matter, the average of minimum price and maximum price is $30.75 per ton of silage. This is 8.2 times the corn price as unharvested or $36.75 per ton of silage which is 9.8 times the corn price or as a harvested crop.
As a comparison, using the same set of assumptions but a lower estimated 140-bushel corn yield and price of $3.50/bushel or a lower estimated 18 ton/acre of corn silage yield at 35% dry matter, the average of minimum and maximum price is $28 per ton or 8 times the price of corn as unharvested silage and $35 per ton or 10 times the price of corn as harvested silage.
-30-
The Iowa Beef Center at Iowa State University was established in 1996 with the goal of supporting the growth and vitality of the state's beef cattle industry. It comprises faculty and staff from Iowa State University Extension and Outreach, College of Agriculture and Life Sciences and College of Veterinary Medicine, and works to develop and deliver the latest research-based information regarding the beef cattle industry. For more information about IBC, visit www.iowabeefcenter.org.
Contact:
Russ Euken, Iowa State University Extension livestock specialist, 641-923-2856, reuken@iastate.edu