Southwest Iowa Pasture Clinics to Offer Site-specific Information

note: pdf files open in new window/tab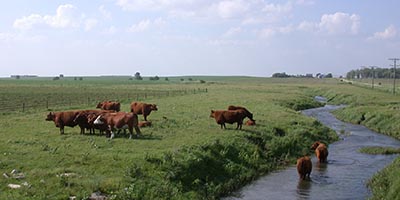 7/14/17
LEWIS, Iowa -- Beef cattle producers in southwest Iowa are invited to a new type of field day in five locations this summer. Iowa State University Extension and Outreach beef specialist Chris Clark said the Southwest Iowa Pasture Clinics will address a wide variety of pasture management topics for producers who are looking for ways to optimize livestock and forage production practices and weed management strategies. There's no cost to attend any of the locations.
"Each pasture clinic will cover information about beef cattle, forage, and watering systems, and will highlight features and challenges specific to the site, and all will be hosted by Iowa State extension specialists," Clark said. "All programs are in the evening with a meal included. The time and session length varies by location."
He said each clinic is designed to be interactive and will include a resource guide. To ensure adequate meal count and materials availability, preregistration is required for each location. Contact the county extension office for the location you plan to attend as early as possible.
July 18, 5:30-8 p.m, Brad Z Ranch, 1454 Hwy 44, Guthrie Center

Contact: Guthrie County Extension Office, 641-747-2276

July 25, 5-8 p.m., Stockwell Farms, 2879 Linwood Ave, Bedford

Contact: Taylor County Extension Office, 712-523-2137

July 27, 5-8 p.m., Shelby County Extension Office 906 Sixth Street, Harlan for meal at 5 p.m., then Schwarte Farm, 1505 2200 St., Defiance

Contact: Shelby County Extension Office, 712-755-3104

Aug. 7, 5-8 p.m., Advanced Beef Genetics, Fairview Rd, Wiota (1/8 mi E of N28)

Contact: Cass County Extension Office, 712-243-1132

Aug. 23, 5-8 p.m., Frazee Farm, 1080 230th St., Emerson

Contact: Mills County Extension Office, 712-527-3316
See a flyer with details on all locations. For more general information, contact Clark at 712-250-0070 or email at caclark@iastate.edu
-30-
The Iowa Beef Center at Iowa State University was established in 1996 with the goal of supporting the growth and vitality of the state's beef cattle industry. It comprises faculty and staff from Iowa State University Extension and Outreach, College of Agriculture and Life Sciences and College of Veterinary Medicine, and works to develop and deliver the latest research-based information regarding the beef cattle industry. For more information about IBC, visit www.iowabeefcenter.org.
Contact:
Chris Clark, Iowa State University Extension beef program specialist, 712-250-0070, caclark@iastate.edu