Northwest Iowa Field Day to Feature Sheep Grazing Cover Crops

note: pdf files open in new window/tab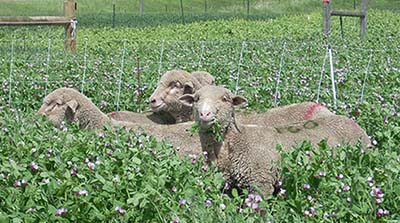 11/7/17
LE MARS, Iowa -- Sheep producers and agribusiness staff are invited to a field day featuring ewes and cover crops on Nov. 28 in Plymouth County. The field day is sponsored by Iowa State University Extension and Outreach, Northwest Iowa Sheep Producers, Iowa Sheep Industry Association and the Iowa Sheep and Wool Promotion Board. Iowa State Extension and Outreach beef specialist Beth Doran organized the event.
"Cover crops have been used to stretch grazing in the fall and early spring for cattle, but less research has been conducted regarding their potential with sheep," Doran said. "This field day features two northwest Iowa sheep producers who actively graze cover crops."
The field day will begin at 10 a.m. at the Tyler Meyer farm, located at 2465 500th Street, Ireton. Tyler aerial-seeded a cereal rye and radish mix for his mature ewes to graze. He will share lessons he's learned with fall and spring grazing.
In the afternoon, Travis Hawkins of Le Mars will share his experience with ewes grazing a blend of cereal rye, radishes, rape and turnips. In late August he aerial-seeded this mix into standing corn. His farm is located at 11363 Nature Ave.
The field day includes a noon lunch at the Craig Cooperative in Craig, and updates from the NW Iowa Sheep Producers Association and Iowa State Extension and Outreach. Registration is $5 per person, and is due Nov. 21. Register by using the form from the event flyer on the Iowa Beef Center website and sending to ISU Extension and Outreach Plymouth County, 251 12th St. SE, Le Mars, Iowa 51031, or call that office at 712-546-7835.
Attendees are encouraged to dress for winter conditions as the morning and afternoon sessions will be outside. For biosecurity reasons, participants should wear clean clothes and footwear.
For more details on the individual field day sites, see
the event flyer
or contact Beth Doran at
doranb@iastate.edu
or phone 712-737-4230.
-30-
The Iowa Beef Center at Iowa State University was established in 1996 with the goal of supporting the growth and vitality of the state's beef cattle industry. It comprises faculty and staff from Iowa State University Extension and Outreach, College of Agriculture and Life Sciences and College of Veterinary Medicine, and works to develop and deliver the latest research-based information regarding the beef cattle industry. For more information about IBC, visit www.iowabeefcenter.org.
Contact: Beth Doran, ISU Extension and Outreach beef specialist, 712-737-4230, doranb@iastate.edu