2020 Silage Beef Webinar Series Begins July 7


note: pdf files open in new window/tab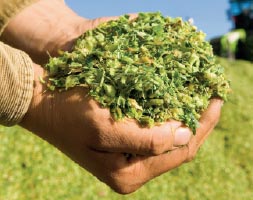 6/26/2020
AMES, Iowa — Building on the success of previous cooperatively offered one-day silage conferences, Iowa Beef Center, University of Nebraska—Lincoln and Lallemand Animal Nutrition planned a similar opportunity for this summer. And while the high caliber and quality of topics and speakers continues, the delivery method is different. The event is now a four-part webinar series, each with a specific topic and speaker.
Iowa Beef Center director and Iowa State University animal science professor Dan Loy said organizers hope the change will allow more producers to view and access the information, at times that work for them.
"We plan to record all four of the webinars and make those recordings available through our website," Loy said. "Even if you can't participate in a live session, the information will still be available to all. Registration is free."
The series is set for Tuesdays, from 12:30 to 1:30 p.m. Central time. Dates are July 7, July 14, July 28 and August 4.
By date, here are the session topics and speakers.
July 7,  Silage Production and the impacts of dry weather and limited water,
Jourdan Bell, PhD, Assistant Professor & Agronomist, Texas A&M AgriLife Extension and Research
July 14, Making silage under adverse conditions,
Renato Schmidt, PhD, Technical Services – Forage, Lallemand Animal Nutrition
July 28, Tips & tricks for silage pile construction,
Becky Arnold, Territory Business Manager, Lallemand Animal Nutrition
August 4, Silage feeding and management for beef cattle in the current environment,
Galen Erickson, PhD, Professor, University of Nebraska–Lincoln
Register here for webinar access https://bit.ly/2Nqpw0A
"This is a great opportunity for us to bring current research information to the cattle industry in Nebraska, Iowa and beyond," Loy said. "Hopefully this online opportunity increases the reach of this information to a national and international audience."
-30-
The Iowa Beef Center at Iowa State University was established in 1996 with the goal of supporting the growth and vitality of the state's beef cattle industry. It comprises faculty and staff from Iowa State University Extension and Outreach, College of Agriculture and Life Sciences and College of Veterinary Medicine, and works to develop and deliver the latest research-based information regarding the beef cattle industry. For more information about IBC, visit www.iowabeefcenter.org.
Contact:
Dan Loy, IBC director, 515-294-1058, dloy@iastate.edu
Writer:
Sherry Hoyer, Iowa Beef Center, 515-294-4496, shoyer@iastate.edu