Iowa Beef Center to Survey Corn Silage and Earlage Use by Iowa Producers

note: pdf files open in new window/tab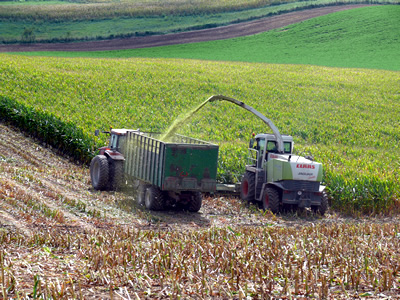 3/7/17
AMES, Iowa -- Iowa Beef Center at Iowa State University is working on a project to characterize how Iowa producers produce and use silage and earlage for cattle feed. A two-pronged approach led by extension beef program specialist Russ Euken will use results from a current survey of producers and lab analysis of silage and earlage samples. The combined results will better inform educational efforts by Iowa State, as well as provide current data to update existing silage publications.
Euken said producers can request a printed copy of the survey or complete the survey online. Because both versions are identical, people should complete only one format. Some producers will receive the survey in the mail. Producers can access the online survey through this direct link https://iastate.qualtrics.com/SE/?SID=SV_bwOHjFtQB119jud or through a link on the Iowa Beef Center website. The survey will take only a few minutes to complete.
"A limited number of free silage or earlage lab analyses will be available to producers who complete the survey," Euken said. "Those interested in the analysis can provide their name and contact information on the survey and they will be contacted on how to submit a sample for analysis. The project ends in July and the limited free samples we're able to offer are on a first-come, first-serve basis, so producers are encouraged to complete the survey as soon as possible."
A summary of the information collected will be available through Iowa Beef Center later this year. No individual responses will be identified, and all responses will be aggregated when it is made available.
Those with questions or interest in the project, or who would like a printed copy of the survey can contact any beef field specialist listed below.
NW Iowa  Beth Doran 712-737-4230  doranb@iastate.edu
NC Iowa  Russ Euken 641-923-2856  reuken@iastate.edu
NE Iowa  Denise Schwab 319-472-4739  dschwab@iastate.edu
SW Iowa  Chris Clark 712-250-0070  caclark@iastate.edu
SC Iowa  Joe Sellers 641-203-1270  sellers@iastate.edu
SE Iowa  Patrick Wall 515-450-7665  patwall@iastate.edu
Central Iowa  
Erika Lundy
515-294-9881
ellundy@iastate.edu
-30-
The Iowa Beef Center at Iowa State University was established in 1996 with the goal of supporting the growth and vitality of the state's beef cattle industry. It comprises faculty and staff from Iowa State University Extension and Outreach, College of Agriculture and Life Sciences and College of Veterinary Medicine, and works to develop and deliver the latest research-based information regarding the beef cattle industry. For more information about IBC, visit www.iowabeefcenter.org.
Contact:
Russ Euken, ISU Extension and Outreach beef program specialist, 641-923-2856, reuken@iastate.edu

Writer:
Sherry Hoyer, Iowa Beef Center, 515-294-4496, shoyer@iastate.edu