Beef Management Workshops Offer Fescue and Supplementation Info

note: pdf files open in new window/tab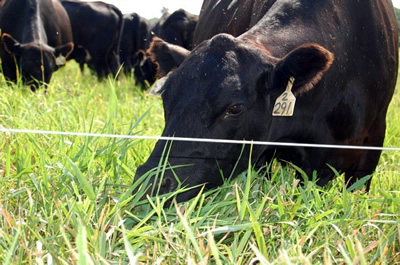 4/25/17
CHARITON, Iowa -- Southern Iowa beef producers who want to learn more about grazing management and managing tall fescue are invited to attend any of four beef management workshops this spring. Organizer Joe Sellers is an Iowa State University Extension and Outreach beef program specialist. He said the session dates of May 30, May 31 and June 1, will allow attendees to hear from experts from University of Missouri and AgBotanica who also will be presenting at the 2017 Veterinarian Update session on May 31.
"We're fortunate to have speakers Diane Spurlock and Craig Roberts, who also will be presenting at the Iowa Beef Center's annual Veterinarian Update at the Iowa State McNay Research Farm," Sellers said. "Both will share current information in their expertise area to workshop attendees."
Spurlock will describe use of the T-Snip test to identify fescue tolerant breeding stock, and Roberts will explain renovating fescue pastures with spray/smother/spray. Sellers also will talk about supplementation strategies.
Workshop dates, times and locations are as follows:
May 30, 6:30 p.m., Davis County Extension office, 402 E. North Street, Bloomfield
May 31, 6:30 p.m., Decatur County Fairgrounds, 1700 NW Church Street, Leon
June 1, 8 a.m., Carpenter's Hall Rotary room, 1215 Court Avenue, Chariton
June 1, 1 p.m., Wayne County Extension office, 220 East Jefferson Street, Corydon
The series is sponsored by the Iowa Beef Center and Iowa State Extension and Outreach. A flyer with information for all sessions is available on the Iowa Beef Center website.
The registration fee is $10 per person to cover speaker expenses and is payable at the door. Snacks and soft drinks will be served at each location. For more information, contact Sellers by phone at 641-203-1270 or email
sellers@iastate.edu
-30-
The Iowa Beef Center at Iowa State University was established in 1996 with the goal of supporting the growth and vitality of the state's beef cattle industry. It comprises faculty and staff from Iowa State University Extension and Outreach, College of Agriculture and Life Sciences and College of Veterinary Medicine, and works to develop and deliver the latest research-based information regarding the beef cattle industry. For more information about IBC, visit www.iowabeefcenter.org.
Contact:
Joe Sellers, Iowa State University Extension beef program specialist, 641-203-1270, sellers@iastate.edu
Writer:
Sherry Hoyer, Iowa Beef Center, 515-294-4496, shoyer@iastate.edu