Van Buren County Pasture Walk to Look at Big Picture of Using UAVs

note: pdf files open in new window/tab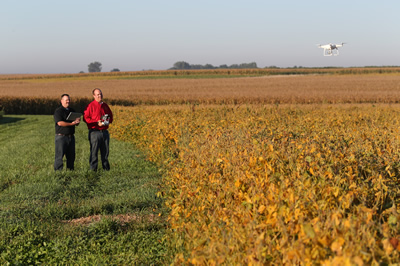 7/6/17
MARION, Iowa -- Attendees of this year's Van Buren County Pasture Walk might want to keep an eye on the sky. Iowa State University Extension and Outreach field agronomist Rebecca Vittetoe said the Tuesday, Aug. 1 event will include discussions on technology and regulations regarding unmanned aerial vehicles (UAV) and their uses in pastures and crop fields.
"UAVs, also known as drones, are gaining a lot of interest in agriculture, and can help give us a perspective of our crop fields and pastures we haven't really been able to see before," Vittetoe said. "We are really just starting to scratch the surface about what these technologies might be able to offer."
The event starts at 5 p.m. at the Bentonsport Shelter House, 22098 Hawk Drive, with a meal grilled by the Van Buren County Cattlemen and served by the Jolly Trio 4-H club. During this time, attendees will hear about UAV technologies from ISU ag and biosystems engineering program coordinator Ryan Bergman.
Following the meal, participants will travel to the Sid and Sparky Wellman farm for the pasture walk portion of the evening. Bergman, Vittetoe and Iowa State extension beef specialist Patrick Wall will lead discussion on how farmers can use UAVs in their pasture and crop fields.
This event is open to the public. There is a $5 registration fee, payable at the door. To register or for more information, contact the Van Buren County Iowa State Extension Office at 319-293-3039. Please preregister by Friday, July 28.
The event flier has the program details.
Directions to the Bentonsport Shelter House: The address is 22098 Hawk Drive, Bentonsport, IA. From Keosauqua go south out of town on Hwy 1. Turn east onto County Rd J40 for about 6 miles.
For more information on the event, contact Vittetoe by phone at 319-653-4811 or email rka8@iastate.edu or Wall by phone at 515-450-7665 or email patwall@iastate.edu.
Sponsors for the crop and pasture walk are the Van Buren County Cattlemen, Van Buren County Extension, First Iowa State Bank, Farmers & Traders Savings Bank, Van Buren County Farm Bureau, Libertyville Savings Bank and Iowa Beef Center.
-30-
The Iowa Beef Center at Iowa State University was established in 1996 with the goal of supporting the growth and vitality of the state's beef cattle industry. It comprises faculty and staff from Iowa State University Extension and Outreach, College of Agriculture and Life Sciences and College of Veterinary Medicine, and works to develop and deliver the latest research-based information regarding the beef cattle industry. For more information about IBC, visit www.iowabeefcenter.org.
Contact:
Rebecca Vittetoe, Iowa State University Extension field agronomist, 319-653-4811, rka8@iastate.edu
Patrick Wall, Iowa State University Extension beef program specialist, 515-450-7665, patwall@iastate.edu