Calving Management Webinar set for Jan. 22

note: pdf files open in new window/tab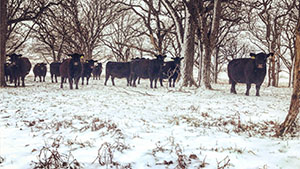 1/9/20
AMES, Iowa – Beef cow-calf producers recognize the importance of staying informed on all aspects of their operation, and the second of a four-part webinar series from Iowa Beef Center will help them do just that. The session is set for Wed. Jan. 22, from 6 to 8 pm, and focuses on calving time management.
Iowa State University extension program specialist Beth Reynolds said the series is intended to provide timely topics for beef cow management and the opportunity to access the information by joining the webinar at their own location or at one of nine host sites listed below.
Grant Dewell, Iowa State University extension beef veterinarian, will discuss calving season preparations and dealing with dystocia. Chris Clark, DVM and Iowa State extension beef specialist in south central Iowa, will highlight tips for managing newborn calves.
There is no cost to attend an in-person location or to view the webinar at home. If you plan to attend one of the in-person locations listed below, you're encouraged to preregister by calling the host location.
To be able to view the webinar from your own location, you'll need to complete the online registration form prior to the seminar. Look for the "Join this live webinar" link on the main webinar series page http://www.iowabeefcenter.org/WinterCowWebinarSeries.html Use that same link to join the seminar when it begins.
South central

Madison County Extension Office, 117 N. John Wayne Dr., Winterset, 515-462-1001

Southwest

Cass County Extension Office, 805 West 10th St., Atlantic, 712-243-1132

Southeast

Washington County Extension Office, 611 Highway 1 South, Washington, 319-653-4811

North central

Hancock County Extension Office, 327 West 8th St., Garner, 641-923-2856

Northeast       
Delaware County Fairgrounds Community Center, 200 East Acers St., Manchester, 563-927-4201
Northwest  

Emmet County Extension Office, 26 S 17th St., Estherville, 712-362-3434
O'Brien County Extension Office, 340 2nd St. SE, Primghar, 712-957-5045
ISU Western Research and Demonstration Farm, 36515 Hwy E34, Castana. Call ISU Extension Monona County, 712-423-2175

Central

Hansen Ag Student Learning Center, 2508 Mortensen Road, Ames, 515-294-BEEF (2333)
Dates and topics for the remaining two sessions are  Feb. 18, Market trends, tracking and improving profitability; and March 10, Pasture renovation, forage management. All sessions run from 6 to 8 p.m.
-30-
The Iowa Beef Center at Iowa State University was established in 1996 with the goal of supporting the growth and vitality of the state's beef cattle industry. It comprises faculty and staff from Iowa State University Extension and Outreach, College of Agriculture and Life Sciences and College of Veterinary Medicine, and works to develop and deliver the latest research-based information regarding the beef cattle industry. For more information about IBC, visit www.iowabeefcenter.org.
Contact:
Beth Reynolds, extension program specialist, 515-294-9881, bethr@iastate.edu