Driftless Conference to Focus on Current Beef Industry Challenges

note: pdf files open in new window/tab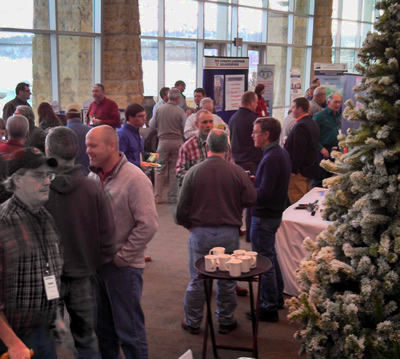 1/2/18
DUBUQUE, Iowa – The upcoming Driftless Region Beef Conference will spotlight several big picture issues facing the beef industry, according to Denise Schwab, beef specialist with Iowa State University Extension and Outreach. The conference will be held Jan. 25-26, at the Grand River Conference Center in Dubuque.
"I have worked on the planning committee with colleagues from Illinois, Wisconsin and Minnesota to invite really great speakers to address major issues facing our industry," Schwab said. "From cover crops to feed quality, this event will provide a wealth of information on efficient and economic forage and beef production."
The conference will begin at 1 p.m. Jan. 25 with a program concentrating on cover crops and feed mycotoxin risk.  The evening bull pen session this year will focus on unique uses of cover crops, and a panel of local beef producers utilizing cover crops.
The morning session on Jan. 26 kicks off with Jamey Kohake from Paragon Investments, sharing risk management tools, followed by six breakout sessions. Breakout sessions include grazing supplementation on pasture, manure safety, rumen health, calving facility designs, pasture forage species, and calf health.
The conference, which begins at 1 p.m. on Jan. 25 and ends 11:45 a.m. on Jan. 26, will conclude with a market outlook provided by Jamie Kohake from Paragon Investments, Inc.
The early registration fee of $85 per person must be received prior to midnight, Jan.12. The price increases to $115 after that date. More information on topics, speakers and lodging is available at www.aep.iastate.edu/beef. Registration with links for online and mail forms are available on the conference website.
The Driftless Region Beef Conference is sponsored by ISU Extension and Outreach, University of Illinois Extension, the University of Minnesota Extension and University of Wisconsin Extension. For more information or to receive a brochure, contact Schwab at 319-472-4739.
-30-
The Iowa Beef Center at Iowa State University was established in 1996 with the goal of supporting the growth and vitality of the state's beef cattle industry. It comprises faculty and staff from Iowa State University Extension and Outreach, College of Agriculture and Life Sciences and College of Veterinary Medicine, and works to develop and deliver the latest research-based information regarding the beef cattle industry. For more information about IBC, visit www.iowabeefcenter.org.
Contact:
Denise Schwab, Iowa State University Extension beef specialist, 319-721-9624, dschwab@iastate.edu