Iowa Beef Center Asks Feedlot Operators for Feedback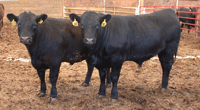 2/26/14
Contacts: Dan Loy, Iwa Beef Center, 515-294-1058, dloy@iastate.edu
Sherry Hoyer, Iowa Beef Center, 515-294-4496, shoyer@iastate.edu
AMES, Iowa -- Iowa feedlot operators may soon be receiving a survey in the mail from Iowa Beef Center. As part of its ongoing commitment to providing accurate and timely information to the state's beef industry, IBC is now asking the feedlot segment for opinions on a variety of topics, according to director Dan Loy.
"Growth opportunities and challenges exist in cattle production, and we want to identify both of those so we can assist in profitable, sustainable growth of the industry," he said. "To do so, we need help from Iowa feedlot operators and that's why we developed this survey."
Participation is entirely voluntary and all responses will be kept in strict confidence, Loy said. Individuals who will analyze the responses will not have access to any identification of survey participants.
"We place a high value on the input of producers because their first-hand knowledge and need for information will drive future research, education, and extension and outreach programming from IBC," he said. "This in turn will assist us in meeting future needs of Iowa beef producers as well."
The survey was mailed Feb. 25, so producers in the selected group should start to receive the mailing soon. A postage-paid envelope is included for convenience, and Loy said anyone with questions is welcome to call him at 515-294-1058.
-30-
The Iowa Beef Center at Iowa State University was established in 1996 with the goal of supporting the growth and vitality of the state's beef cattle industry. It comprises faculty and staff from Iowa State University Extension and Outreach, College of Agriculture and Life Sciences and College of Veterinary Medicine, and works to develop and deliver the latest research-based information regarding the beef cattle industry. For more information about IBC, visit www.iowabeefcenter.org
2014 News and releases